April brings reminders on work-zone safety, dangers of distracted driving
April brings reminders on work-zone safety, dangers of distracted driving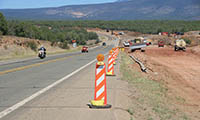 By Dallas Hammit / ADOT Deputy Director for Transportation
Having a designated month, week or even a day that's devoted to a particular safety topic is a great way to bring about some added awareness. This month, we not only have a week dedicated to work-zone safety, but all of April is set aside by many transportation agencies to focus on the dangers of distracted driving.
National Work Zone Awareness Week (April 11-15) has offered a reminder of how we all need to slow down, pay attention and always expect the unexpected when driving through a work zone.
The week is especially significant for us here at ADOT. We have more than 1,000 employees working on maintenance and construction projects all over the state. Every day, they're completing work that's necessary to maintain our state's transportation system. Their "office" just happens to be the highway — they're putting themselves out there to do vital work. I ask all of you to slow down and give our crews the room they need to do their jobs safely so they can go home to their families each night.
Drivers who use extra caution in a work zone aren't just helping protect the people who build and maintain our roads — they're making the work zone safer for themselves, too. Statistics have shown that about 80 percent of those killed in work-zone crashes are drivers and their passengers.
Please revisit ADOT's work-zone safety page for information, video and tips that'll help keep you and your passengers safe.
I also want to make sure you know about Distracted Driving Awareness Month. It is observed every April and the focus is always on the danger of any activity that takes a driver's attention away from the road. Distracted driving is a serious issue and is one of the emphasis areas outlined in Arizona's Strategic Highway Safety Plan.
Most would agree that texting and driving is a big diversion and not worth the risk, but it isn't the only distraction we face in the car. If you've ever eaten while in the driver's seat, answered a quick phone call, read a map or even adjusted the radio, you've taken your focus off driving.
While some drivers might feel confident in their ability to multitask behind the wheel, the danger they're putting themselves and other motorists in is very real. I hope you'll take time during Distracted Driving Awareness Month to examine your own driving habits to make sure you're giving your full attention to the road. I also encourage you to continue the conversation with your family and loved ones, especially any teen drivers in your life. You can find videos, information and convincing statistics at the U.S. Department of Transportation and the National Highway Traffic Safety Administration.
EDITOR'S NOTE: More safety messages from Dallas Hammit, ADOT's state engineer, are available at Driving Safety Home on azdot.gov.