Arizona Highways guidebook knows its way around northern Arizona
Arizona Highways guidebook knows its way around northern Arizona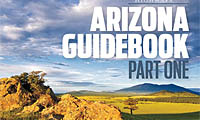 By Peter Corbett / ADOT Communications
Arizona Highways covers a lot of ground with its new Arizona Guidebook featuring scenic photographs and spelling out where travelers can hike, drive, dine and sleep.
Part One of the 160-page travel book covers northern Arizona attractions, including Grand Canyon, Monument Valley, Lake Powell, Route 66 and the Navajo Nation. Flagstaff, Williams, Sedona and Jerome are also featured.
The folks at Arizona Highways, published by ADOT, know their way around. They've been exploring the state since 1925 when roads were dirt and road trips were dusty.
The guide is available in bookstores and at ArizonaHighways.com.
Part Two of the Arizona Guidebook, due in fall 2019, will offer travel tips on Phoenix, Tucson, Yuma, Tombstone, Bisbee and other towns in central and southern Arizona. It will also feature the White Mountains and Chiricahuas.
Arizona Highways magazine is in all 50 states and more than 120 countries.