Art of Transportation: Blue diamonds are like stars
Art of Transportation: Blue diamonds are like stars
By Laurie Merrill / ADOT Communications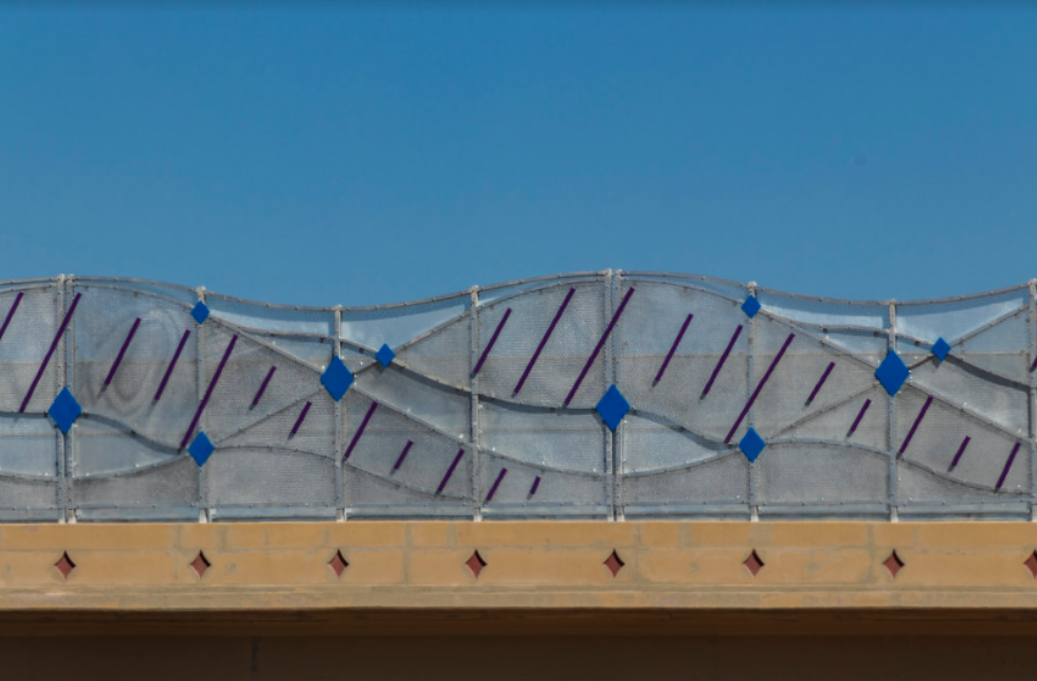 Bringing natural forms onto roads and bridges was the idea behind the artwork on the new Happy Valley Road bridge over Interstate 17.
By now, many motorists have likely noticed the purple slashes and blue diamonds on a white background that adorn the new overpass wall. Metal pipes form gentle swells along the wall, adding to abstractions that, put together, form the shape and color of natural mountains.
"Blue diamonds are like stars merging with the landform silhouettes," said Joe Salazar,  aesthetic designer/coordinator for aesthetic landscaping and designs for ADOT.
On the concrete just below the wall is a line of brown diamonds, representing the thorns of the Sonoran Desert saguaro. This abstraction is taken a step further with the vertical patterns on the sides of the bridge. These represent the ribbing of the saguaro, he said.
"It is unfolding the trunk of the saguaro, laying it out and putting the pattern over the wall," Salazar said, "It is a continuation of the saguaro."
And that's the pattern you are seeing in the lower photo to the right.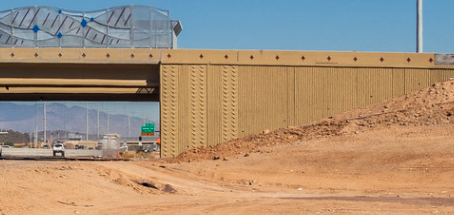 The new overpass that bears this design is an integral part of a safety- and traffic-flow improvement project encompassing I-17 interchanges at Happy Valley and Pinnacle Peak roads in north Phoenix.
The project also included the new diverging diamond intersection at Happy Valley. In addition to reconstructing the traffic interchanges, ADOT and the Federal Highway Administration have added a travel lane on I-17 and replaced a box culvert on Pinnacle Peak Road to the east of I-17.
For Salazar, who was joined in the project by Phoenix artist Daniel Mayer, the artwork on the new intersection reflects the surrounding natural environment.
"If you drive along I-17 and look at your surroundings you will see what is remaining of the natural desert," he said. "I was trying to bring that in."
For more information about this joint Arizona Department of Transportation and Federal Highway Administration project, visit the project's page on our website.
______________________________________________________________________________________________________________________________________________________
Art of Transportation
We think there is beauty in transportation. It's not all hard hats and pavement. Art of Transportation is a blog series featuring unique photos our team has taken while on the road or on a construction project.