Art of Transportation: Light at the end of the rebar tunnel
Art of Transportation: Light at the end of the rebar tunnel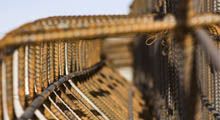 By John Dougherty / ADOT Communications
There's a light at the end of the tunnel, and not just for this shaft of rebar that is now part of the bridge over the Union Pacific Railroad tracks for our project on Interstate 10 at State Route 87 near Eloy.
This project is widening the interstate while creating a modern interchange for SR 87. It's scheduled to be completed later this year, so this shot is a reminder that there are good things coming soon.
---

Art of Transportation
We think there is beauty in transportation. It's not all hard hats and pavement. Art of Transportation is a blog series featuring unique photos our team has taken while on the road or on a construction project.