Ask ADOT: Mill and Fill
Ask ADOT: Mill and Fill
By David Woodfill / ADOT Communications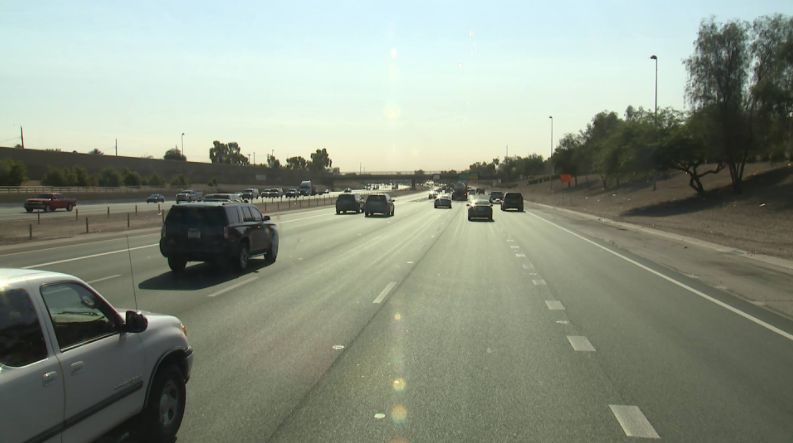 @ArizonaDOT Any upcoming maintenance on eastbound 10 ?Between 43rd Ave and Jefferson: big crevices on inside lanes. Lots of missing asphalt sections outside lines, prior to I17 split, really rough ride.

— Brad McNeal (@wsox05bears85) March 4, 2021
With thousands of followers on social media, we receive all kinds of questions. We try to answer everyone's questions or refer them to the person who can help. For the more frequently asked questions, we've started a new blog series called "Ask ADOT." Today's blog is the first in our series. 
A couple of weeks ago, one of our Twitter followers going by the handle @wsox05bears85 reached out to ask if we were planning to make repairs to a damaged portion of Interstate 10 in the West Valley.
As the messenger observed, some sections of asphalt are worn away between 43rd Avenue and Interstate 17. 
The answer is "yes." The Arizona Department of Transportation is aware of the damaged asphalt and plans to do "mill and fill" work on that stretch of freeway this summer. A "mill and fill"  project involves removing the existing layer of asphalt and replacing it with a fresh, new layer. The old asphalt is taken to a facility where it is recycled and used again. 
James Durlin, ADOT's Highway Operations Supervisor, said the work will occur over several weekends on more than just the stretch of highway between 43rd and I-17 (the stretch you see to your right is just west of 35th Avenue). The freeway between  Avondale Boulevard and 75th Avenue will also be resurfaced. 
As for the portion in between, from about 43rd to 75th, that asphalt was recently replaced as part of the work involving the new Loop 202 South Mountain Freeway. Watch for futher announcements about this work as it gets closer on az511.gov, our social media and our website. For more information, you can also call the ADOT Bilingual Project Information Line at 855.712.8530 or go to azdot.gov/contact and select Projects from the drop-down menu. 
---
This is part of a series of blogs called "Ask ADOT." If you have a burning question about transportation infrastructure, history, or you see something on our highways that piques your interest, send us a tweet or message us on Facebook and we'll try to find more information on it for you.