Avoid a conifer catastrophe; secure your Christmas tree
Avoid a conifer catastrophe; secure your Christmas tree
By Laurie Merrill / ADOT Communications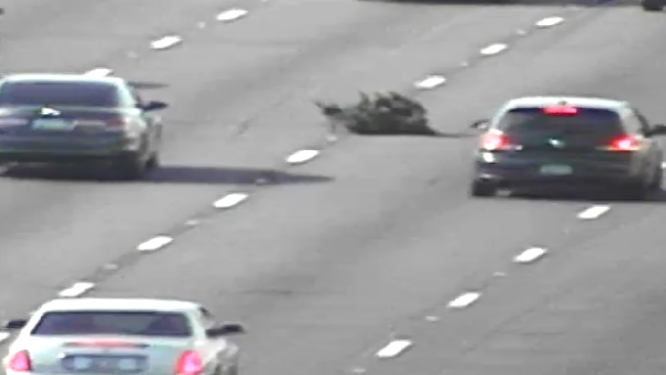 Gathering the family together to pick out a Christmas tree might be a tradition for some, but, unfortunately, so is improperly securing it to a vehicle.
Don't be that family. You know, the one that arrives home only to discover the tree didn't complete the journey. The family whose merriment deflates like so much crumpled wrapping paper.
Besides, trees and highways are not a merry combination. It's kind of like getting coal in your stocking.
But more than that, properly securing a tree to the vehicle saves lives. Every spruce, pine or fir that lands on a highway is a hazard and a potential crash. One family's ejected evergreen could be another family's holiday horror.
We at the ADOT Blog see too many trees littering Arizona roadways. Too many vehicles swerving suddenly to avoid them. Too many public safety responders risking life and limb to remove them from roadways. The highway is no place for a tree.
Whether your tree was purchased at a lot or you got a permit to legally remove one from an Arizona forest, here are some tips to help secure your tree and keep your spirits bright:
Supplies: Pack strong rope, nylon ratchet straps, tie-downs and, depending on your vehicle, an old blanket that can be placed on the roof of a vehicle.
Netting: Some tree lots will offer to wrap the tree in netting. This can protect your vehicle from being scratched by branches and also helps when it's time to secure the tree to the vehicle roof.
Positioning: When placing the tree on the vehicle's roof, make sure the top of the tree is pointing behind the vehicle. 
Securing: Securely strap the tree at its trunk, middle and top.
Check: Do the tug test. Pull at the tree from different angles to make sure it is snug.
Drive smart: There is a large tree atop your vehicle. Make safe and smart decisions when driving that won't cause an evergreen ejection.
And, if you do see a Christmas tree -- or anything else that doesn't belong in highway travel lanes -- please call 911 and report it so the road hazard can be removed.
To read more ADOT blogs about securing your load, click on these: 
Driving safely home, secure your load
Is your load secure? Make sure! 
Be responsible, secure your loads and don't litter