Awards are nice, but our real reward is making transportation personal
Awards are nice, but our real reward is making transportation personal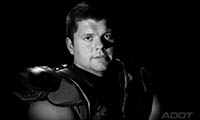 By Steve Elliott / ADOT Communications
Like every other part of ADOT, our mission in Communications is this:
Connecting AZ. Everyone. Every Day. Everywhere.
Transportation is personal. With that in mind, we communicate through words, images, videos, graphics – even this blog – to make sure you have the information you need about projects, innovations, safety campaigns and more. We take the same approach to informing ADOT employees about this agency's initiatives and priorities.
So you may wonder why we'd commit a blog post to letting you know about ADOT Communications winning awards. We took home six from the 2017 TransComm (short for Transportation Communications) Skills Contest through the American Association of State Highway and Transportation Officials.
We'll admit it: We're jazzed about our showing, which includes two first-place awards and four second-place awards against entries by departments of transportation from all around the country and into Canada.
Ultimately, though, we see an award for work by ADOT Communications as a sign that we're meeting our goal of providing the very best information possible to our external and internal customers.
This very blog was among the honorees, winning TransComm's Best Blog award for posts including a look at the Tom Mix Monument on SR 79, the history of Coronado Trail in far eastern Arizona and a rally attracting vintage vehicles to Route 66 in northern Arizona.
The public service announcement above, a seat belt safety message featuring Jared Veldheer of the Arizona Cardinals, won first place for TV commercial or PSA created without the use of consultants.
ADOT Communications won four second-place awards for:
Thanks for allowing me to brag a little bit about the good work done by my colleagues in ADOT Communications. Rest assured we're doing our best for you every day, awards or no awards.