Behind the scenes at Arizona Highways, still going strong after 92 years
Behind the scenes at Arizona Highways, still going strong after 92 years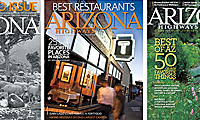 By Angela DeWelles / ADOT Communications 
When you walk into the Arizona Highways office, you quickly get a sense of how far the magazine has evolved during its 90-plus year history...
Sitting near downtown Phoenix, the building has served as the magazine's headquarters for more than five decades. Old publications still live there, including the magazine's first issue from 1925. Books and photos from the more recent past also share the space with signs of the magazine's future, like page mockups for an upcoming issue along with new posters and books ready for sale.
Maintaining the magazine's legacy, while also considering a modern audience, is what drives Editor Robert Stieve and the rest of the Arizona Highways editorial staff.
"There's a challenge in trying to be fresh at the ripe old age of 92, but it is an exciting challenge," Stieve said.
Back in the beginning
The magazine got its start in April 1925 as a sort of trade magazine aimed at engineers. It was launched by the Arizona State Highway Department shortly after state legislation passed giving the department authority to enter into the magazine business.
On the text-heavy pages of its first issues, the magazine included articles and advertisements focused mainly on highway planning and construction, engineering methods, and finances.
Making a magazine
While still a part of ADOT, today Arizona Highways operates as a colorful, photo-filled consumer magazine that highlights the state's culture, profiles people, reviews restaurants and features travel articles.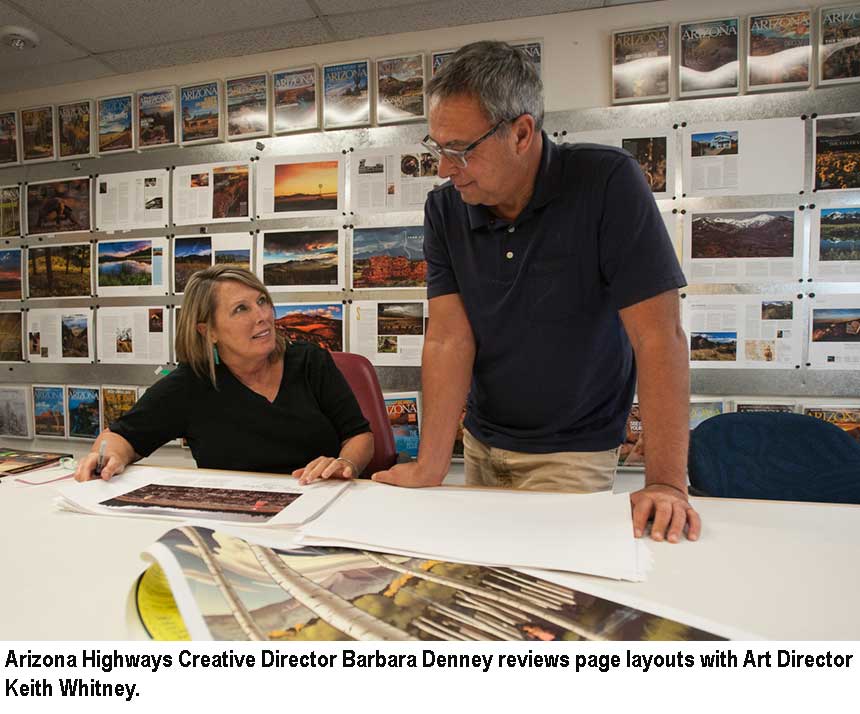 Roughly half of the stories are authored by freelance writers each month, while the rest is written by the Arizona Highways editorial staff, Stieve said.
Photos, which play an enormous role in the magazine's success, are submitted by freelance photographers and Photography Editor Jeff Kida. The shots are all reviewed one by one when the staff meets for a monthly image review.
"We want to see what resonates with the staff," said Stieve, adding that it's a challenge to impress them because they've all seen some stellar photography through the years.
Once the content is set, the art department designs the layout and the magazine is ready to print.
Building the brand
Arizona Highways Production Director Michael Bianchi oversees the printing and distribution of the magazine and its many related products. His team ensures more than 100,000 issues get printed each month for subscribers and the newsstands.
The cost of postage and paper is always on the team's radar, along with potential topics for books.
"[The magazine alone] does not pay to run this operation," Bianchi said. "We have to supplement it with other revenue streams and we have quite an inventory of books that we have published."
Arizona Highways has about 30 active titles that get reprinted frequently, said Bianchi, adding that the calendars produced by Arizona Highways are also big sellers.
Stieve explains that the books, calendars and other items all help to further the Arizona Highways brand.
"We've become marketers," said Stieve, adding that the magazine has a large audience on social media who might not be interested in a traditional print subscription, but may be more likely to purchase a poster or travel guide. "As subscriptions decline, which is happening to all magazines, we're looking for ways to create new revenue streams."
Looking toward the future
Kelly Mero, who serves as associate publisher and director of sales and marketing, works closely with major retailers to ensure Arizona Highways magazines and products are stocked in stores like Costco and Barnes & Noble. His team has also developed licensing deals (airport gift shops and a locally produced television show use the Arizona Highways name for a fee) and continues to seek out future partnerships.
The magazine's digital efforts include a website and an online edition of the magazine.
"We're also looking down the road at developing an app, but we're trying to do that very strategically," Mero said.
While the magazine business continues to change, Stieve says he believes Arizona Highways will last.
"Arizona Highways is a very unique thing," Stieve said. "The magazine is a state treasure and something for all of us to be proud of.