Big step forward for I-10 widening project as first pavement goes down
Big step forward for I-10 widening project as first pavement goes down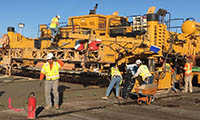 We are live in Eloy this morning. Crews are paving the first new section of I-10. We are adding lanes to makeI-10 safer and smoother for drivers. pic.twitter.com/MtHy8gWLOI

— Arizona DOT (@ArizonaDOT) May 8, 2018
By Steve Elliott / ADOT Communications
It's a milestone day for ADOT's project widening several miles of I-10 between Picacho and Eloy. Crews are putting down the first pavement for new lanes being built east and north of the current I-10 alignment between mileposts 209 and 213.
Along with news outlets, Tom Herrmann from ADOT Communications was out at the crack of dawn to mark the occasion. You'll see some this work in his video and photos above, at right and below.
Crews had already started the paving process by putting down a base layer to carry these new lanes. Today, the area begins to look like the brand new freeway stretch coming by fall 2019.
Paving is expected to continue through the summer. The new lanes will connect to the existing freeway by the fall.
Why so much interest in this project? First, it's one of two going on in Pinal County that will make I-10 three lanes in each direction between Tucson and Casa Grande, continuing our efforts to improve the flow of personal and commercial traffic on this busy interstate. The other project, also scheduled for completion by fall 2019, is between Earley Road and I-8 in Casa Grande.
These follow other projects in recent years to widen I-10 between Tucson and Casa Grande.
Another reason for interest: After finishing these new lanes between Eloy and Picacho, our team will start on a first-of-its-kind dust-detection zone. This will include short- and long-range radar to identify dust storms that limit visibility. It also will install electronic message boards, variable speed limit signs and a closed-circuit camera network to alert drivers to potential hazards.
Also coming is a new interchange with SR 87. Drivers already can see the bridge supports for this structure rising just north of the current I-10 alignment.
The combined cost of the two projects, including the dust detection program, is about $157 million. About $54 million of that comes from a federal FASTLANE grant.
We'll keep you posted as both of these projects move forward and we move ever closer to completion and an even more valuable I-10.
How do we get such thick pavement to handle heavy traffic? This is how. First new I-10 pavement being set in Eloy this morning. pic.twitter.com/E6DxiIiToF

— Arizona DOT (@ArizonaDOT) May 8, 2018