A bird's-eye view of the transformation at Bell and Grand
A bird's-eye view of the transformation at Bell and Grand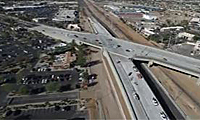 By Caroline Carpenter / ADOT Communications
For months now, we've closely followed the progress on our Bell-Grand project in Surprise. This aerial footage from the city of Surprise shows, month by month, construction of an interchange that carries Bell Road over the BNSF Railway tracks and, soon, will connect with Grand Avenue (US 60).
As promised, Bell Road reopened to traffic in November. The entire project will be done by the start of baseball spring training.
The final phase of work includes completing ramps to and from Grand Avenue and opening new eastbound lanes of Grand Avenue. The project is will wrap up before the start of baseball spring training.