A bridge to the future
A bridge to the future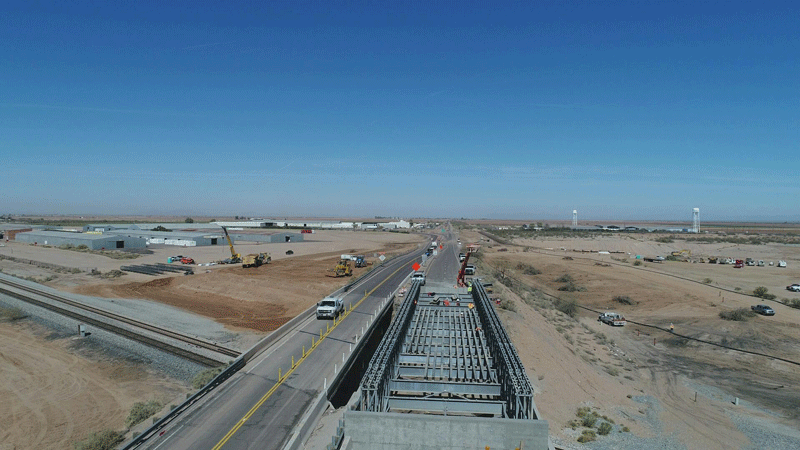 By Tom Herrmann / ADOT Communications
There's a new bridge on State Route 87, but you may never notice it as you drive by just north of Interstate 10. You'll never drive on it. And in the fall of 2019, when the work to widen I-10 and build a new interchange nearby is complete, the new bridge will come down for use somewhere else.
Because of this temporary bridge, the southernmost section of SR 87 will be safer for drivers, and the work will be done even faster.
The pit for this project – an area near the work site where crews take dirt for use in the construction – is located just east of SR 87, a short distance north of the work. Without the temporary bridge, construction vehicles would need to drive on SR 87 between the pit and the work site, causing delays for drivers and making that area potentially dangerous for drivers.
Enter Coffman Specialties, the contractor building new lanes of I-10, a new interchange at SR 87 and a new dust detection and warning zone on 10 miles of the interstate. Coffman is putting in an Acrow temporary bridge that not only will carry construction equipment but can handle much larger loads than the existing SR 87 bridge.
How much larger? Without the bridge, engineers were estimating trucks would carry 80,000 loads of dirt and other materials between the pit and the job site. With the new bridge, that number should be fewer than 20,000 loads.
The temporary bridge will remain in place until about the end of 2018. The impact on drivers – aside from having a safer environment – is that SR 87 will be reduced to one lane in each direction until the project is complete. Any delays will be brief.
The project is the first of two I-10 widening efforts that will make I-10 a six-lane freeway from the northern edge of Casa Grande to the east side of Tucson. A meeting to prepare for the second project, which includes widening I-10 between Earley Road and Interstate 8 in Casa Grande, will happen in less than a month.