Bridge walls: More than just another pretty facade
Bridge walls: More than just another pretty facade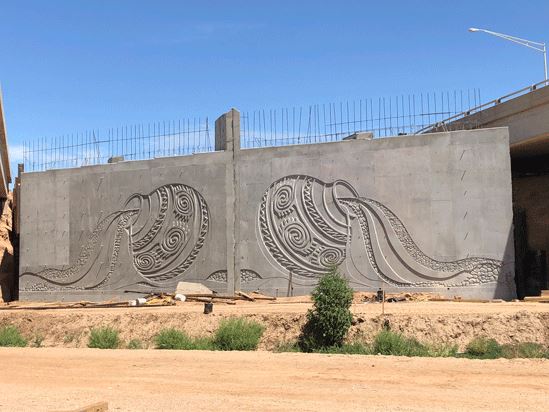 By Tom Herrmann / ADOT Communications
When you drive under many of the overpasses across Arizona, you see more than just a wall. You see artistic designs created to add beauty to the concrete façade and reflect the history of the community.
The designs are seen on the overpass walls of three projects we've blogged about quite a bit lately: the Interstate 10/Ina Road interchange in Marana and I-10 widening projects in Eloy and Casa Grande. Designs are being planned for new interchanges coming to Ruthrauff and Houghton roads in the Tucson area.
At Eloy, today's neighboring pecan orchards and the cotton fields of past times provided inspiration for representing the agriculture layout patterns onto the freeway structure. At Jimmie Kerr Boulevard in Casa Grande, the region's Native American culture inspired the ollas design theme. The olla – a Spanish word that means pot – reflects how the ancient Hohokam culture would gather, transport and store water from ancient canals in their pottery vessels.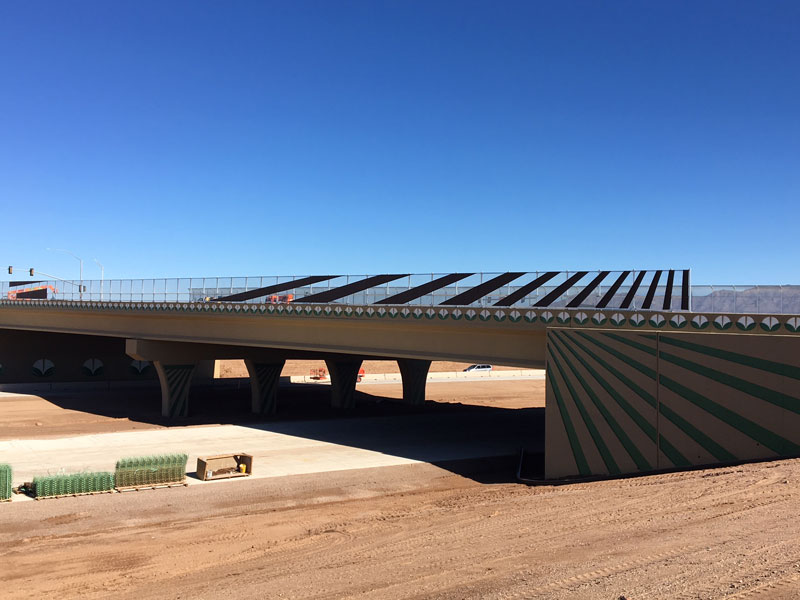 These projects are an example of how ADOT Roadside Development collaborates with companies like Wheat Design Group to create responsible designs for the public to enjoy.
At a meeting about plans for I-10 at Houghton Road, ADOT Roadside Development, Structural Grace Engineering and Wheat Design Group began preliminary design concepts by studying the region's history, culture, flora and fauna. Work is scheduled to begin in 2021.
"There is a story behind the art," said Laura Mielcarek, owner of Wheat Design Group.
The new interchange at Ruthrauff, where construction is expected to begin this summer, provides an opportunity to honor the work done by one of Tucson's most revered engineers: John "Mos" Ruthrauff. Ruthrauff is known for transforming Tucson's dirt roads to paved streets.