Bridging the past with the future on I-10
Bridging the past with the future on I-10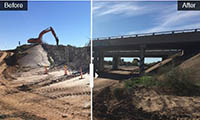 By Tom Herrmann / ADOT Communications
Driving along Interstate 10 as you passed Eloy in Pinal County, you may not have noticed the bridges that carried traffic over local roads. Six of them, three in each direction, allowed freeway traffic to flow without isolating the communities of Eloy and Picacho.
With new freeway lanes under construction as part of a 4-mile widening project, those six bridges built in the 1960s are no longer needed. The new freeway alignment and a new interchange at State Route 87 that reaches across I-10 will accommodate traffic on I-10 and in those communities.
And so, along with the old freeway lanes, those bridges are coming out. The westbound bridges at SR 87 and LaPalma and Phillips roads have already been taken down. The eastbound bridges will be removed as soon as eastbound traffic is switched to new lanes in January.
You can use the slider above to see the before and after (well, more like during) for one of these demolitions.
The concrete and asphalt from those bridges won't go to waste. We're using everything freeway – 1 million square feet of asphalt, 30,000 feet of guardrail and 700,000 cubic yards of earth – to build the foundation of the new eastbound lanes. Some of the guardrail will be reused in other projects around Arizona.