Car buffs celebrating Historic Route 66 with cruise
Car buffs celebrating Historic Route 66 with cruise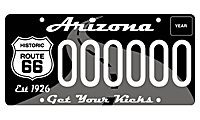 By Peter Corbett / ADOT Communications 
Historic Route 66 will see a surge of traffic this weekend with close to 800 vintage vehicles traveling from Seligman to Topock for the 30th annual Route 66 Fun Run.
The Historic Route 66 Association of Arizona has events planned along Route 66, Arizona's most celebrated highway, from Friday to Sunday. Seligman and Kingman will host preliminary events on Friday.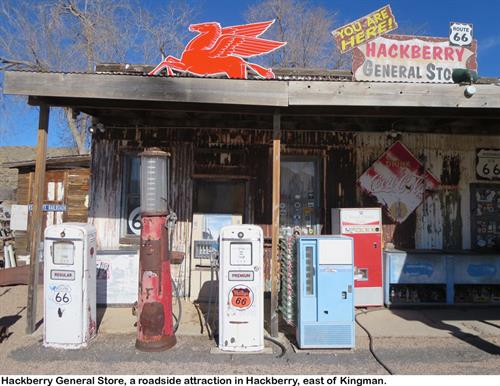 The 135-mile Fun Run starts at 10 a.m. Saturday with a wide array of historic and late-model cars motoring west on Route 66 from Seligman to Grand Canyon Caverns, Peach Springs, Truxton, Valentine, Hackberry and Kingman.
The final 50-mile leg of the Route 66 cruise will leave Kingman at 9 a.m. en route to Oatman, Golden Shores and Topock on the Colorado River. A restored Kingman police car, a 1954 Chevrolet Bel Air referred to as "Jingles," will lead the rally out of Kingman.
Route 66 associations from Australia, Canada, France and the Czech Republic will participate in the Fun Run along with individuals and car clubs from Arizona and the West, said Jan Davis, Historic Route 66 Association of Arizona, director of operations.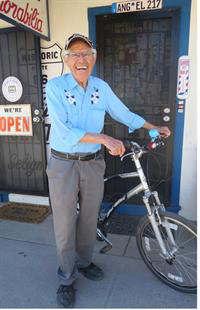 "It's like a family reunion for some of these people," she said, noting that Steve Clifford of Westminster, California, has made the Fun Run every year in his 1962 Corvette. "This 30th (Fun Run) is a little special for them."
Interstate 40 replaced Route 66 across Northern Arizona from the 1960s through 1984, when the Williams bypass was completed. A year later, federal highway officials decommissioned U.S. Route 66 from Chicago to Los Angeles after 59 years as a cross-country highway.
The Historic Route 66 Association of Arizona, led by Seligman barber Angel Delgadillo, successfully lobbied in 1987 for a historic designation of Route 66 in Arizona to promote. The first Fun Run was held in 1988 with about 50 participants.
Last fall, the Arizona Department of Transportation began selling specialty Route 66 license plates for $25, with $17 of that going to the Historic Route 66 Association of Arizona. The black and white plates are available from ServiceArizona.com.