Catching you up on our SR 87 safety improvements
Catching you up on our SR 87 safety improvements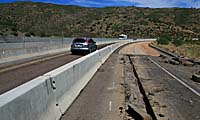 By Ryan Harding / ADOT Communications
Work continues on a critical safety project on State Route 87 south of Payson. With crews repairing the roadway and stabilizing the terrain after earth movement near Slate Creek, motorists are using new left lanes in each direction while we rebuild the right lanes.
A three-mile stretch of the roadway is reduced to one lane in each direction 24 hours a day, seven days a week until the work is completed later this year. So continue to plan some extra time if you're traveling between the Valley and Rim Country.
These photos show right lanes between mileposts 223 and 226 stripped down to the dirt road bed. Crews will be spending the next several weeks rebuilding those lanes through as well as finishing the drainage work and stabilizing the surrounding terrain.
We're making these repairs after detecting slight shifting in the slopes along SR 87 through this area. ADOT put a project together that started earlier this year with repairing drainage pipes in the slopes. Workers also cleaned out those pipes, which help move water away from the slopes.
The current phase of the project has crews repairing the roadway damage that resulted from the shift, as well as moving nearly 27,000 cubic yards of dirt further down slope to help stabilize the area.