Centennial video captures a day in ADOT history
Centennial video captures a day in ADOT history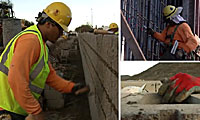 When Arizona turned 100 last month, we celebrated by documenting everything ADOT does across the state in a single day.
And, oh what a day it was!
Our team was up early – out on the road, covering everything from construction projects and maintenance work to planning meetings and the MVD.
If you followed along with us back on Feb. 14, you saw our photos, kept up through social media and probably recall that we promised a mini-documentary detailing the day.
Well, that video is ready and we're very proud to announce its premiere!
The video speaks for itself … so, we won't say much more, except that we hope you'll sit back, relax and enjoy what our team has put together!