Channelizing devices help to guide road users
Channelizing devices help to guide road users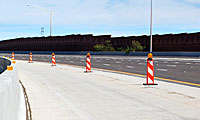 We've got an interesting bit of trivia for you today…
You're likely familiar with the striped barricades that you see in construction zones – they're typically orange and white, reflective and can include cones, tubular markers, vertical panels and drums.
In engineer-speak, they're called "channelizing devices" and according to the Manual on Uniform Traffic Control Devices (MUTCD) their purpose is "to warn road users of conditions created by work activities in or near the roadway and to guide road users … Channelizing devices provide for smooth and gradual vehicular traffic flow from one lane to another, onto a bypass or detour, or into a narrower traveled way. They are also used to channelize vehicular traffic away from the work space, pavement drop-offs, pedestrian or shared-use paths, or opposing directions of vehicular traffic."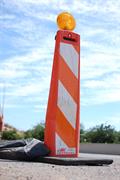 OK, so you might already know all that, but something you may not be aware of is that the diagonal stripes on those channelizing devices are actually pointing drivers in the correct direction.
Again from the MUTCD in a section referring to vertical panels, "they shall have alternating diagonal orange and white retroreflective stripes sloping downward at an angle of 45 degrees in the direction vehicular traffic is to pass."
That means, when you're driving through a work zone, the stripes on those channelizing devices – as long as the devices have been placed correctly – will point down toward the side that traffic is supposed to be on (see photo above for an example).
See, we told you it was an interesting bit of trivia. Now, every time you see a channelizing device, we bet you'll notice those stripes!