Check out the new Loop 303/I-10 Interchange before it opens to traffic
Check out the new Loop 303/I-10 Interchange before it opens to traffic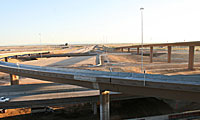 We're coming upon a very big, or should we say very tall, milestone for the Loop 303/I-10 interchange project…
On Saturday morning (Aug. 16), ADOT and the city of Goodyear will host an open house to allow local residents and visitors the chance to walk, jog, skate or cycle beneath the elevated ramps that will soon carry traffic between Loop 303 and I-10 in the West Valley.
Saturday's event not only marks the upcoming completion of the Loop 303/I-10 interchange (all ramps at the interchange are scheduled to be open to traffic by September), it also celebrates the completion of ADOT's recent series of projects to improve Loop 303 from an older two-lane highway to a six-lane freeway traveling north and south from Goodyear to Surprise.
If you've ever attended one of ADOT's dedications, you know that these events offer a fun, up-close look at the some of the state's newest infrastructure. For an idea of what we're talking about, check out our coverage of the SR 24 opening in April or the Loop 303 (Happy Valley Parkway to I-17) dedication back in 2011.
If you plan to join us, here's what you need to know…
The dedication event will be held from 7:30 a.m. to 11 a.m. Saturday along the new westbound I-10 frontage road that also was built as part of the $145 million freeway-to-freeway interchange project.
Gov. Jan Brewer is scheduled to be on hand for the event (she's slated to speak at a ribbon-cutting ceremony starting at 9 a.m.), along with Goodyear Mayor Georgia Lord, ADOT Director John Halikowski and other dignitaries.
Parking will be available on the eastbound I-10 frontage road east of Citrus Road, south of I-10, in Goodyear. Citrus Road, which is west of the new Loop 303/I-10 Interchange, can be accessed from either McDowell Road or Van Buren Street (see map).
After parking, those attending the event will be able to walk or roll through the Cotton Lane underpass beneath I-10 and have an up-close view of the large ramps at the interchange. Local community organizations will also be on hand to share information with guests.
For safety reasons, those attending the open house will not be able to go onto the elevated ramps at the interchange. Guests are asked to be prepared for sunny conditions and are discouraged from bringing dogs or other pets because the pavement will get hotter as the morning moves along.
For more information on this project and to see its progress, revisit some of our previous blog posts.