Comment period continues for ADOT's passenger rail study
Comment period continues for ADOT's passenger rail study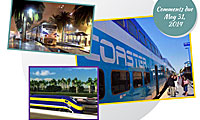 Today, we just wanted to provide you with a quick reminder about the public comment period for ADOT's Passenger Rail Corridor Study and let you know that as ADOT continues to examine the feasibility of a passenger rail line between Phoenix and Tucson, you still have plenty of time to provide input on the three alternatives that have been selected for further study…
In case you forgot
Last summer, ADOT narrowed the list of rail alternatives to three:
The Green Alternative, which would run along I-10 between Phoenix and Tucson
The Orange Alternative, which would serve East Valley population centers and share part of its alignment with the planned North-South Freeway Corridor
The Yellow Alternative, which would also serve East Valley communities and share right of way with Union Pacific Railroad north of Eloy, where appropriate. All three alternatives would run along I-10 south of Eloy and would also follow I-10 and US 60 in the western part of Maricopa County.
We want your opinion
There's more than one way to tell ADOT your thoughts on the alternatives.
You can participate and comment through an online survey at azdot.gov/passengerrail. On that site, you'll also find maps of the three alternatives and a participation booklet.
Another option includes joining us at any of a number of upcoming community events in Maricopa, Pinal and Pima counties. You can find a complete list of these outreach events at azdot.gov/passengerrail. The following is a list of our April events:
Marana Main Street Festival: April 5, beginning at 10 a.m.
Peoria Arts Festival: April 5, 9 a.m. to 5 p.m.
Gilbert Global Village Festival: April 12, noon to 6 p.m.
ADOT's State Route 24 Opening Event in Mesa: April 15, 4 to 7 p.m.
Downtown Tucson: April 16, 11 a.m. to 2 p.m.
University of Arizona, Tucson: April 17, 11 a.m. to 2 p.m.
Pima County Fair: April 18, 1 to 9 p.m. and April 19, 10 a.m. to 9 p.m.
Celebrate Mesa: April 26, 2 to 6 p.m.
More on the study
ADOT's Passenger Rail Corridor Study is part of the department's long-range plan to determine what it will take to construct a rail line to link Phoenix and Tucson, while meeting demands for future growth and travel options along I-10, one of the busiest highway corridors in Arizona.
ADOT is working toward establishing one preferred rail corridor for further study. There is currently no construction schedule and no funding identified to build a rail system between Phoenix and Tucson. It will be up to the public, policymakers and the federal government to decide if the project should move forward and how to generate the funding to pay for it. The study still includes the no-build option.
For more information about ADOT's Passenger Rail Corridor Study, visit azdot.gov/passengerrail or re-visit some of our previous blog posts.