Congressional proposal formally extends I-11 to Southern Arizona
Congressional proposal formally extends I-11 to Southern Arizona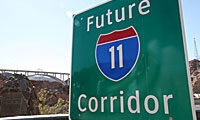 We've been blogging about the Interstate 11 and Intermountain West Corridor for a while now and today, we want to pass along the latest update…
As this March 26 ADOT news release explains, U.S. Senators John McCain and Jeff Flake recently introduced a bill that formally extends I-11 to southern Arizona:
As planning for the Interstate 11 and Intermountain West Corridor advances, Arizona Department of Transportation Director John Halikowski expressed appreciation for the efforts of U.S. Senator John McCain and U.S. Senator Jeff Flake for their work to introduce the Intermountain West Corridor Development Act of 2015 to Congress.
The bill formally extends Interstate 11 from Wickenburg south through the Tucson area to Nogales, Arizona. Interstate 11 had previously received a congressional designation from Phoenix to Las Vegas. The Intermountain West Corridor Development Act would not only formally designate I-11 across Arizona from border to border by establishing a new international trade corridor, but would also extend the interstate north through Nevada as well, with plans to ultimately connect with existing high-priority corridors to the Canadian border.
This act formalizes and reinforces ADOT's overall concept for Interstate 11 in Arizona. ADOT, through its two-year feasibility study, which was completed last fall, focused on and supported the concept of Interstate 11 that runs border to border throughout Arizona, beginning at the Hoover Dam Bypass Bridge and ending at the Arizona-Mexico border.
"I applaud the efforts of Senators McCain and Flake for their continued support to make Interstate 11 a reality," said Halikowski. "As a part of ADOT's Key Commerce Corridor plan, investment in corridors like Interstate 11 provides tremendous opportunities for Arizona to connect to other economic centers and up our game through increased trade, tourism, commerce, job growth and economic development throughout Arizona and the Intermountain West."
The Intermountain West Corridor Development Act is also supported by Senators Harry Reid (D-Nev.) and Dean Heller (R-Nev.).
Other benefits of Interstate 11 include connections to major trade hubs and transcontinental roadways and railroad corridors, while improving safety and travel time along the north-south corridors of the western United States.
Last fall, the Arizona and Nevada departments of transportation completed an initial two-year feasibility study as the first step in the Interstate 11 process. In December, the Arizona State Transportation Board took action to approve $15 million for the Tier 1 Environmental Impact Statement, which will allow ADOT to begin an environmental study in the area between Nogales and Wickenburg. The Tier 1 EIS is expected to begin later this year and is estimated to take three years to complete.
We'll continue to keep you updated on I-11 in the future. If you'd like more information, please visit i11study.com.