Considering the new Travel ID? Here are some guidelines to help you decide what to do
Considering the new Travel ID? Here are some guidelines to help you decide what to do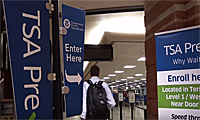 Madelene Carbajal / ADOT Motor Vehicle Division
Thinking about getting the new Arizona Voluntary Travel ID now that it's available?
It's entirely your decision, but we have a few guidelines to help you decide if and when to get one:
It might be worth considering if:
You're getting an Arizona driver license or identification card for the first time
You're renewing your current driver license
You're getting a 12-year photo update to your current license or ID card
On the other hand, it might be worth waiting since:
The U.S. Department of Homeland Security has said current Arizona credentials will be accepted at airport security and federal buildings until Oct. 1, 2020. Waiting until closer to that time to get a Voluntary Travel ID, which is good for up to eight years, could maximize the value.
Or, it might not be worth it at all if:
You furnish documentation other than your driver license or identification card at airport security or to gain access to secure federal facilities. What you have now should be acceptable.
That said, these are suggestions, and everyone's needs are going to be different. Our MVD and Authorized Third Party teams are happy answer questions about Voluntary Travel ID and your situation.
Get more information on the Arizona Voluntary Travel ID at azdot.gov/travelID.