Construction accident occurs on SR 24 project site
Construction accident occurs on SR 24 project site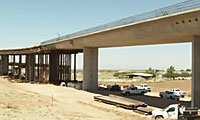 A temporary support structure collapsed this morning, killing one worker and seriously injuring another.
The construction accident, which happened at approximately 6 a.m. today (June 19) on the SR 24 project site, will be investigated by ADOT and the state's Occupational Safety and Health Administration division to determine the cause.
Work stopped for today. ADOT will work with the contractor and OSHA to determine when construction will resume.
"We want the public to know that ADOT works to put safety as the first priority every day and as part of the investigation we'll be looking at not only what happened here, but the lessons that we can learn to take to other projects around the state," says ADOT Assistant Communications Director Tim Tait in the video above.