Coronado Trail leads to Arizona's heavenly high country
Coronado Trail leads to Arizona's heavenly high country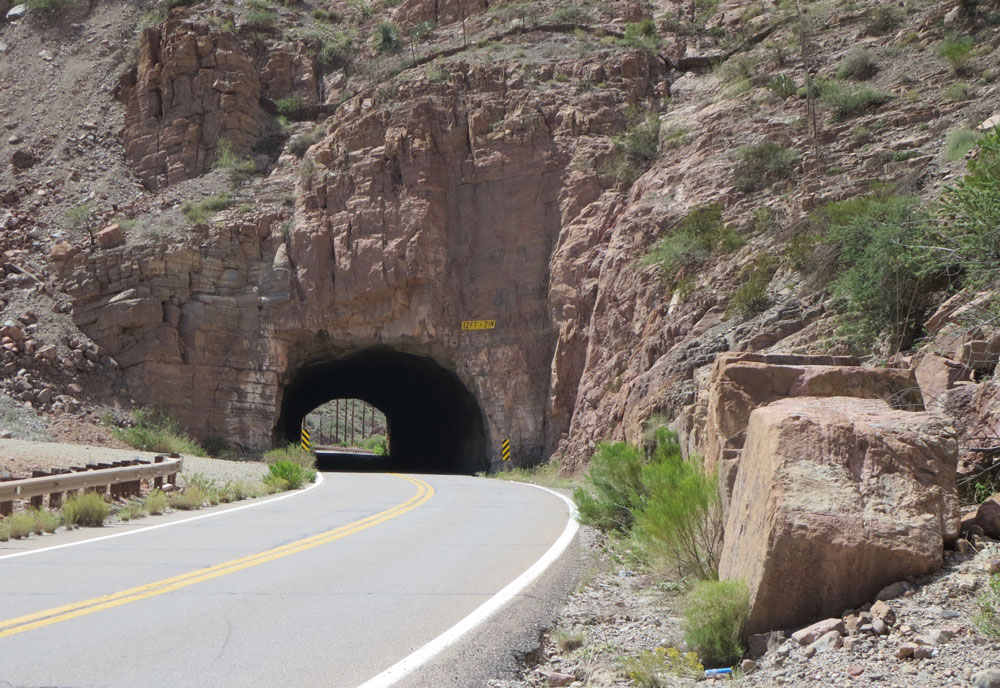 By Peter Corbett / ADOT Communications
Arizona's Coronado Trail stands out in a state full of scenic drives for its sustained beauty over 120 miles of twisting roadway, its scarcity of traffic and the sharp contrast of the landscapes from Clifton to Springerville.
At one end of US 191 is the high-desert town of Clifton, with one of the world's largest open-pit mines in the adjacent community of Morenci.
At the other end of the Coronado Trail Scenic Byway, the road ascends to alpine forests at 9,000 feet in the Apache-Sitgreaves National Forest on the way to Alpine, Eagar and Springerville.
Alpine lives up to its name with fir, pine and aspen trees and some of Arizona's most scenic mountain meadows.
In between Clifton and Springerville, is a route of 460 curves that reveals ever-improving mountain views.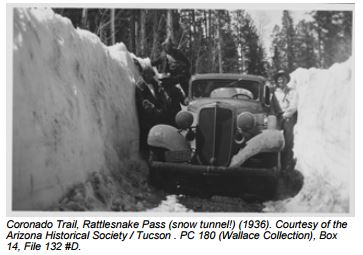 And it's an exhilarating drive. While eastern Arizona is pickup truck country, the Coronado Trail is ideal for motorcycles and sports cars.
Drivers on US 191 are advised to pull off the road to enjoy the views during the three-hour road trip. The Coronado Trail demands one's attention and rewards driving enthusiasts with its challenges. Straightaway? What straightaway?
In Clifton-Morenci, the highway passes by an historic train depot, burrows through a rocky tunnel and leads to an overlook of the open-pit copper mine.
Traffic is scarce along the Coronado Trail. Travelers camping or picnicking along US 191 will rarely be disturbed by the whine of tires on pavement.
The Coronado Trail accounts for less than one quarter of the length of US 191. The highway – Arizona's longest – stretches 517 miles from the Mexican border at Douglas to the Utah state line about 20 miles northwest of Teec Nos Pas on the Navajo Nation.
The highway takes its name from Spanish explorer Francisco Vasquez de Coronado, whose search for gold and the mythical Seven Cities of Cibola came up empty in 1540. Some historians believe Coronado led his expedition roughly along the route of the highway that bears his name.
The Coronado Trail emerged nearly four centuries later. Initially, it was unpaved Forest Highway 19 dedicated June 19-20 in 1926 at Hannagan Meadow as the Coronado Trail and Clifton-to-Springerville Highway.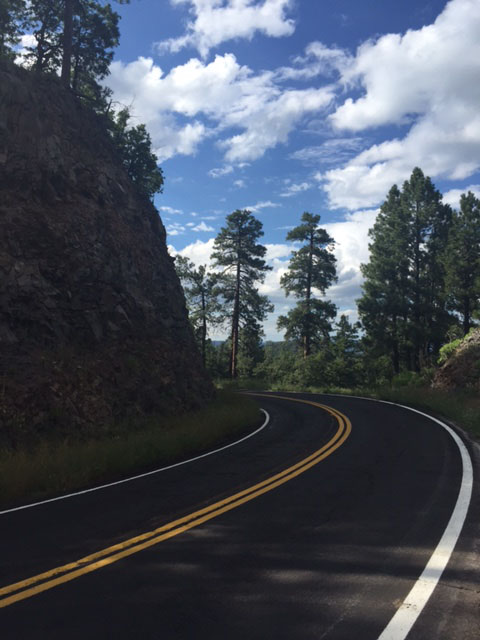 Lynn Ruger chronicled the dedication ceremony for the Forest Service in a publication called "Mileposts Along the Coronado Trail."
Gov. George W.P. Hunt, sporting his trademark white linen suit, spoke at the two-day celebration. It included a barbecue of "six fat steers and two bears" for an estimated 5,000 people. About 125 Apaches performed their Devil Dance from sundown to sunup and Hannagan Meadow turned into a dusty campground encircled with horses and early-model Chevrolets, Ford Model T's and an Essex coupe.
The Arizona Gazette described the Coronado Trail as a "most splendid highway" and as a "summer tourist attraction worth millions of dollars to Arizona, all a credit to good roads."
It took a full day to drive from Clifton to Springerville on what was a single-lane dirt road.
The Arizona Highway Department, predecessor of ADOT, took control of the in 1928, and it was renamed Arizona Route 81.
A decade later, it was renumbered as U.S. Route 666 when the Canada-to-Mexico Highway Association lobbied for a north-south transcontinental highway.
Portions of the road were paved starting in the 1940s. It was completely paved by October 1962 when Gov. Paul Fannin rededicated the highway in a ceremony at Hannagan Meadow.
U.S. 666, nicknamed the Devil's Highway, was renamed US 191 in 1992.
Today, the former Devil's Highway is a revered route to Arizona's heavenly high country.