Counting down to the final tasks at I-10 and Ina Road
Counting down to the final tasks at I-10 and Ina Road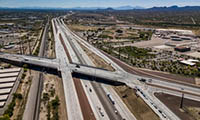 By Tom Herrmann / ADOT Communications
We are so close.
Ina Road opened over Interstate 10 in March. It's a straight drive from Silverbell Road west of I-10 to Thornydale Road east of I-10. In April, ramps connecting Ina Road to I-10 were busy with traffic almost as soon as they opened.
This month we're focused on the few remaining touches. Recently we paved the eastbound frontage road south of Cortaro Road. On Ina Road west of I-10, we've recently put the elements in place for the new traffic signal at Starcommerce Way, and we're preparing to add pedestrian railings on the new westbound bridge over the Santa Cruz River. The slideshow above has quite a few views of our recent progress.
The Orange Grove exit from westbound I-10, which closed two years ago for driver safety, also should open this month. We need to bring the Ina Road exit ramp to full capacity first.
In June, barring anything unexpected, we will open the entire roadway so customers can easily get to their favorite businesses. We'll also open the new multiuse paths along the Santa Cruz River.
We hope you like what we created. More lanes to accommodate the area's growth. A larger, better interchange with I-10. No more waiting for trains to clear the tracks just east of I-10. Combined with the city of Marana's beautification project east of I-10, Ina Road will be ready to accommodate the area's needs for decade to come.
What's next? We'll be moving about 5 miles down I-10 to Ruthrauff Road, where we'll build a new interchange like the ones we've done in recent years at Prince Road, Twin Peaks Road and now Ina Road, taking Ruthrauff over the railroad tracks and putting I-10 at ground level. We'll spend the summer making final preparations and begin construction this fall.