Crawling under semis in the name of continuous improvement
Crawling under semis in the name of continuous improvement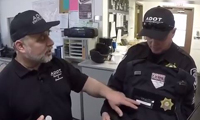 By David Rookhuyzen / ADOT Communications
Using the Arizona Management System championed by Governor Doug Ducey, leaders learn by routinely going where work is done in what's known as a Gemba walk.
For our director, John Halikowski, this can include heading to our I-40 port of entry in Topock and rolling under a parked semitrailer. That's so he can learn how ADOT's Enforcement and Compliance Division conducts safety inspections on commercial vehicles. This particular Gemba walk also included riding shotgun when one of these state-certified peace officers takes off after a commercial vehicle that failed to stop at the port.
Gemba walks give the director and other ADOT leaders a chance to experience what employees do every day in the name of improving quality, safety and customer service.
The video above, produced for ADOT employees as part of our continuous improvement efforts, focuses on the police officers who concentrate on commercial vehicle safety and other transportation issues. These officers work at ports of entry and on state highways to make sure commercial vehicles are in compliance with permitting rules and regulations, size restrictions, and registration and equipment safety requirements.
Enforcement and Compliance Division officers also investigate title, registration and driver's license fraud and unlicensed auto dealers, among other law enforcement duties.
You can learn more about how the Arizona Management System works at ADOT, including our many success stories, by visiting azdot.gov/AMS.