A Day in ADOT History
A Day in ADOT History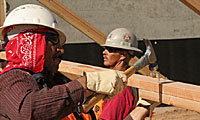 Happy 100th Birthday, Arizona!
As most of the state enters party mode today and stops to reflect on Arizona's past, we wanted to take a different approach to our Centennial revelry...
We thought it might be interesting to celebrate Arizona's history by reflecting on where we are today.
Don't get us wrong...we're huge history buffs and plan to dedicate many blog posts during the Centennial year looking back at the impact transportation has had on shaping our state -- from the federal wagon road that would later become Route 66 to the very last mile of Interstate 10 between California and Florida (which happens to run straight through downtown Phoenix).
But today, we want to document a day in ADOT history. How does ADOT, on a daily basis, impact Arizona? How will the work we do today improve the Arizona of tomorrow?
We have folks across the state capturing ADOT activities today and plan to compile the footage into a mini documentary of sorts, which is what brought me to the Phoenix District Maintenance yard just after 5:00 this morning...
I'm part of the crew assigned to the Phoenix metro East Valley (okay, we're not really a "crew" -- there's two of us).
So far we've hit a landscaping debrief meeting (basically a round up of the day ahead before loading the trucks and prepping the gear).
We then swung by the Traffic Operation Center to check in on the traffic engineers monitoring the Valley-wide commute.
Now we're en route to a sound wall project (and hopefully we'll get some coffee soon!).
We'll keep you updated on happenings around the state throughout the day (I hear it's snowing in Flagstaff) and I hope you'll check in with us today either here or on our Facebook page!
We'll know where we were when Arizona turned 100...we'd love to know where you were, especially if you took an ADOT road to get there!
Update (12:30 p.m.):
When we left off, we were heading to a sound wall project up in the northeast Valley. The wall is one of 10 being built as part of the Maricopa Regional Supplemental Noise Walls project.
On the stretch we visited (on the Loop 101 near Shea Blvd.) crews will pour 203 cubic yards of concrete today -- about 21 truck loads.(Ardent ADOT Blog followers will appreciate my excitement that I not only noticed the wattles in the area, but knew their purpose and their name!)
From there we hustled one on-ramp over where a three-person ADOT maintenance crew replaced a downed ramp meter in about 40 minutes flat!(You might remember we blogged about the new ramp meters in the Valley back in June.
Next up was another maintenance project...a guard rail replacement on the I-10 near downtown Phoenix. Crews are working to replace about 315 linear feet of guard rail badly damaged when a produce truck overturned last week. Luckily, neither the driver nor any other motorists were hurt. The guardrail and the lettuce, however, didn't fair as well.
Checking in around the state...
Earlier this morning we got an update from down in the southern portion of Arizona. Crews were out working on the new eastbound I-10 overpass at SR 90 near Benson. That project involves the reconstruction of the existing traffic interchange and realignment of more than a mile of curves on I-10 west of SR 90 in northeastern Cochise County.
We also heard from our folks out in the West Valley. Crews were up early out on the I-10 in Goodyear (check out our slideshow at the top of this post for a look at some of the heavy-duty equipment necessary for a big project like this one!). Some of the work being done this morning included the construction of a new ramp at Citrus Road as part of the Loop303/I-10 interchange project.
Next, we checked in on a meeting over in the West Valley. No big machinery was anywhere to be seen, but the work being done is just as vital to the project. Teams discussed an upcoming water shut-off that will affect residents near the I-10 and Citrus Road as part of the Loop 303/I-10construction.
Phew ... it's been a busy morning! We've got a lot more ground to cover and I'm headed back on the road so keep checking back for more updates.
Update (2:15 p.m.):
It really is amazing how much goes on at ADOT in one day...and I'm only seeing half of one metro area!
Continuing our trek through Phoenix, we stopped by Equipment Services to see what they're working on. On any given day, they service and repair up to 300 vehicles that come in to the 26 service stations set up around the state. ADOT shop employees do everything from body and paint work to inspecting crane cables to installing radios and lights for department vehicles.
Across the street at ADOT's sign shop, they're busy testing traffic signal controllers, creating new interstate freeway signs and prepping screens for the sign-making process. On average, the sign shop makes 30,000 signs a year.
From there, we headed to SR 143 out by Sky Harbor International Airport. This project is designed to reconstruct the SR 143/Sky Harbor Boulevard traffic interchange to improve access to and from the airport … we blogged about it back in December.
Today, contractors installed sign foundations at Sky Harbor Blvd and SR 143 and poured Moment Slabs (big concrete footers for 42" barrier walls also being erected).
Next up...we're off to catch up with the afternoon maintenance and landscaping crews and check in with our video counterparts shooting around ADOT HQ...Stay tuned!
Update (4 p.m.):
Well, we made our way back to the office (unfortunately missed the landscape crews we were trying to track down).
I had a minute to check in with our team here at ADOT HQ. They've been shooting all day and got some great footage of:
All the footage from today is going to be turned into a comprehensive video that will give viewers a glimpse of everything ADOT does in a day. Be on the look out for it soon!
We're still getting photos coming in from all over the state and we'll continue to update our Flickr photo album … check back tomorrow morning to see some of the photos we get throughout the evening!
That's it for now ... our team is headed back out on the road to get the afternoon commute. Thanks for spending your Centennial Day with us!