Defining bridge inspection terms
Defining bridge inspection terms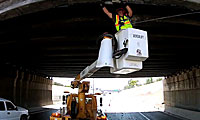 You may have heard the terms "structurally deficient" or "functionally obsolete" in reference to bridges…
While the words themselves don't exactly inspire a lot of confidence in the structures they're describing, you can rest assured knowing that these classifications do not mean that a bridge is unsafe.
We'll delve into the definitions of the terms in a minute, but first let's take a look at bridge sufficiency ratings and how they're used by bridge inspectors.
ADOT's Bridge Management Section handles the bridge inspection program in Arizona. This group is responsible for safety bridge inspections on all the bridges on the state highway system and the majority of the bridges that are owned or operated by local municipalities in the state.
Bridge inspections cover a multitude of items. Since we don't have the space in this single blog post to detail everything that goes into a bridge inspection, today we're just going to look at the sufficiency ratings.
The ratings are determined by inspectors and are used to indicate a bridge's sufficiency to remain in service. These ratings are expressed as a percentage – 100 percent means a bridge is entirely sufficient and zero percent would represent an entirely insufficient bridge. If a structure is classified as "functionally obsolete" or "structurally deficient" the letter "F" or "S" would precede the rating number.
Again, the "structurally deficient" or "functionally obsolete" ratings do NOT mean a particular bridge is unsafe – many other factors help inspectors determine a bridge's overall condition.
Having stated all that, here's how ADOT defines the terms…
Structurally Deficient – This means a component of the bridge needs rehabilitation. That is to say, if a bridge inspection shows that the bridge deck, superstructure or substructure condition rating is below a certain threshold, the bridge may call for this rating. Once again, a "structurally deficient" classification does not mean a bridge is unsafe.
Functionally Obsolete – A bridge can be labeled functionally obsolete if it has sub-standard geometric features, such as narrow lanes or shoulders or inadequate clearance. You might remember that we profiled the demolition of the old Gila River Bridge in Bylas. Built in 1957, it was deemed "functionally obsolete" because the bridge was narrow and was inadequate for the needs of traffic in the area.
We'll fill you in with more information on bridge inspections in the coming months, but in the meantime, you can visit the ADOT website to learn more about ADOT's Bridge Group.