DeGrazia Foundation and Arizona Highways magazine commemorate painter Ted DeGrazia
DeGrazia Foundation and Arizona Highways magazine commemorate painter Ted DeGrazia
By Dani Weber / ADOT Communications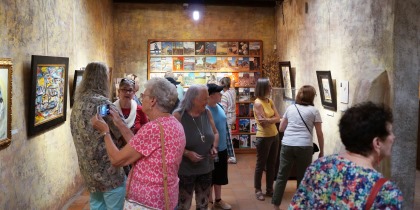 This summer, the DeGrazia Foundation celebrated its namesake's 110th birthday at the artist's Gallery in the Sun in Tucson. Collaborating with Arizona Highways magazine, published by ADOT, the gallery has put together a collection of the dozens of works featured in one of Arizona's most treasured publications.
"It was clear even from early issues that (Arizona Highways editor) Raymond Carlson made friends with DeGrazia and tried to promote him," Curator Jim Jenkins said. "Just being aware of his relationship with the magazine, I always wanted to do an exhibit. So when we got the request from Arizona Highways magazine, it was perfect synchronicity, and I just thought, 'We've got to do this.'"
Working with Arizona Highways, Jenkins collected back issues of the magazine and combed the archive for stories involving DeGrazia – and there was plenty to choose from. In addition to the online resources Arizona Highways made available, a board member to the foundation had collected thousands of issues of the magazine over the years and donated them to the gallery. Jenkins was able to find every single issue that featured DeGrazia's – 70 in total.
"There was so much," Jenkins said. "So much information, so many stories didn't make it into the final exhibit. I could've filled two rooms, but I just didn't have the space."
DeGrazia's relationship with Arizona Highways was a mutually beneficial one. The magazine exposed his paintings to an international audience, and DeGrazia's growing popularity grew the magazine's readership. Now with this exhibit, interest in the artist's work has been refreshed.
"People who grew up with DeGrazia have gotten older and possibly passed away," Jenkins said. "That legacy has started fade, but this exhibit has revitalized it."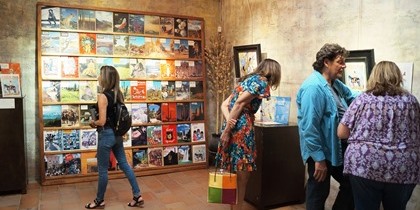 With such a wide diversity of fans, Arizona Highways magazine has long served as a common ground, according to Jenkins. Whether it's DeGrazia's social realism from the 1940s or his much-loved works for the magazine's Christmas issues starting in the 1950s, the exhibit of the artist's work for Arizona Highways has found a modern-day audience.
"The exhibit has had a very warm reception," said Lance Laber, executive director of the DeGrazia Foundation. "The opening of the exhibit coincided with the issue featuring DeGrazia's work, and it was a big event. About four or five hundred people showed up to the opening, and people are still enjoying it."
Laber has extended a warm invitation for anyone and everyone to see the exhibit for themselves. "Come in and see some of these beautiful, original oil paintings and water colors DeGrazia painted over the years. You won't be disappointed."
The exhibit at the Gallery in the Sun in Tucson will run until Jan. 29, 2020.