Delivering information about weekend freeway restrictions is a team effort
Delivering information about weekend freeway restrictions is a team effort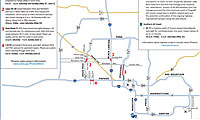 If you follow us on Facebook, Twitter or through email updates, you know that just before the weekend rolls around, ADOT delivers the Weekend Freeway Travel Advisory – our weekly update on major freeway closures or restrictions in the Valley.
The advisory, which also contains information on projects outside the Phoenix area, is designed to help get drivers in Phoenix and elsewhere ready for their weekend travel plans.
There's a lot of work that goes into creating each of these travel advisories and we thought it'd be interesting to share a behind-the-scenes look at how everything comes together each week…
It all starts with ADOT's community relations officers in the Phoenix area. They're constantly tracking the progress of the agency's various freeway projects, such as the Loop 303/I-10 interchange in Goodyear and the ongoing installation of traffic-flow sensors and other equipment along Loop 101 in the West Valley.
"Our job is to gather the planned-restriction information from the individual ADOT project team members and get it onto a list that is used to write a news release and draft the weekly map," said Community Relations Project Manager Lars Jacoby.
By Wednesday afternoon, the weekly restrictions list is provided back to ADOT's Phoenix-area district managers and project staff for review. It also is sent to ADOT's Public Information Office, where spokesman Doug Nintzel usually has the job of checking it for final edits, drafting a news release and also preparing a separate and slightly abbreviated list that can fit on the weekly map.
"We look at the weekend restrictions list with a critical eye," said Nintzel. "We want it to be customer friendly by making it as easy to understand what's closed and where the alternate routes are. Given the complexities of freeway work and schedules, that's easier said than done."
In turn, the weekend-restrictions list goes to a graphic artist on Thursday morning so the map can be completed. That task is handled by one of ADOT's experienced graphic artists who maintain a freeway-map template, which is updated with the new restriction information each week. The finished product provides readers with a helpful tool for visualizing which freeways are affected by construction and maintenance work.
The entire team sets a goal of sending the news release and map out to Phoenix-area media outlets as soon as possible each Thursday afternoon. Additionally, the release and map are posted on ADOT's Facebook page, Twitter feed and website. An email alert is also sent to anyone who has signed up to receive the information (you can sign up for ADOT email alerts on our website).
The final product provides drivers with all the information they'll need to plan ahead and steer clear of any restrictions.
Now some of you might be wondering why ADOT puts the advisory out on Thursday afternoons, instead of earlier in the week.
We know that it'd be convenient for weekend travelers to have detour information sooner, but it's not usually possible. Many things happen on project sites that make scheduling work a challenge at times. Weather and other issues can sometimes delay the schedule and push work back. Or, crews may finish work earlier than anticipated. All those uncertainties mean that construction schedules can't be set in stone.
If we are absolutely certain of an upcoming weekend closure (the I-10 closure earlier this month, for example), we let the public know about it sooner.
Of course, the weekend advisory isn't the only opportunity for you to get information about our highways. You can visit az511.gov anytime of the week for current information on closures and restrictions statewide. You can also call 511 or follow us on Twitter (@ArizonaDOT) for the latest details.