From the Director: ADOT making progress on Interstate 11
From the Director: ADOT making progress on Interstate 11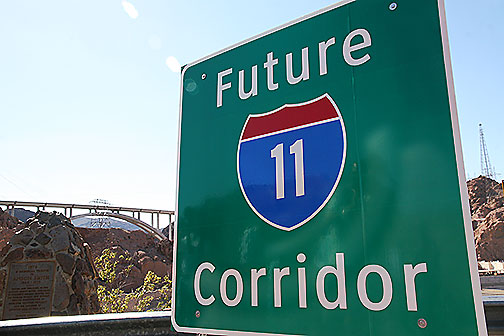 By John Halikowski / ADOT Director
The Arizona Department of Transportation is making progress in laying the groundwork for the future Interstate 11. The agency is continuing to invest another $155 million for improvements to US 93 over the next five years. ADOT is also investing $134 million to upgrade State Route 189 between the Mariposa Port of Entry and Interstate 19 in Nogales beginning next year. While these improvements are being made, ADOT continues its work in studying the future Interstate 11 corridor between Nogales and Wickenburg.
I've talked about the importance of interstate freeways as Key Commerce Corridors. I-11 marks the ability to move commerce and people, and for the state to remain competitive in an ever-evolving global marketplace with an efficient transportation system. It's why ADOT is committed to making the necessary investments on US 93 and State Route 189, which in turn support the concept of I-11.
In 2015, the Fixing America's Surface Transportation Act, or FAST Act, formally designated I-11 throughout Arizona. It stated the 1-11 corridor will generally follow State Route 189 and Interstate 19 from Nogales to Tucson, Interstate 10 from Tucson to Phoenix, and US 93 from Wickenburg to the Nevada state line. ADOT continues to work with our federal, state and local partners to identify funding for I-11.
ADOT is currently funding and conducting the environmental study to identify a potential 2,000-foot wide corridor for I-11 between Nogales and Wickenburg. This Tier 1 Environmental Impact Statement is expected to be completed in 2020. A Tier 2 environmental study requires us to narrow a corridor into a specific freeway alignment if the build option is selected as part of the Tier 1 study. ADOT will hold public meetings in early 2019 to capture public comment.
I wish to commend my transportation colleagues in Nevada for completing the southern segment of Interstate 11 in Nevada. It is certainly a collaborative effort between our two states to connect the two largest cities in the country not directly connected by an interstate freeway – Phoenix and Las Vegas.
Progress is indeed being made in making the future Interstate 11 a reality in Arizona. To learn more about I-11, visit i11study.com/Arizona.
---

This post originally appeared on ADOT Director John Halikowski's
LinkedIn page. He has led the agency since 2009.