From the Director: Arizona gets its kicks with Route 66 plate
From the Director: Arizona gets its kicks with Route 66 plate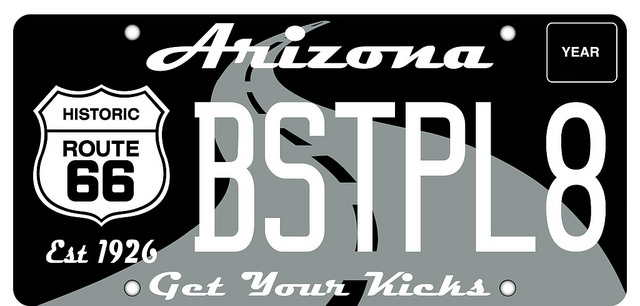 By John Halikowski / ADOT Director
Specialty license plates are a big deal to a lot of people, and they are very, very popular. And there's something of a competition that exists to see which state comes up with the most attractive and useful design each year.
I'm proud to say that Arizona is one of only two states in the nation that have been honored three times with the "Best New License Plate" award given by the American License Plate Collectors Association.
For 2016, the honor goes to the plate that commemorates the iconic Route 66.
The "Mother Road" has been celebrated in movies, television and popular songs such as "Get your kicks on Rt. 66" which mentions three Arizona communities. Now it earns a coveted spot on vehicle bumpers that will travel every mile of Arizona and beyond.
So it's no stretch to say Arizona means a lot to Route 66, and the road means just as much to the history of our state. That's why I'm so pleased that in just a few months of being made available, the sales of this award-winning plate have netted more than $51,000 for preservation efforts.
That number will continue to grow over the years, and it's added to an astounding amount of money that specialty plates raise for worthy causes. In fact, in 2016 specialty plate sales raised about $9.4 million for Arizona causes.
Encouraging generosity and award-winning good looks are a great combination!
---

This post originally appeared on ADOT Director John Halikowski's
LinkedIn page. He has led the agency since 2009.