From the Director: Formal comment period begins for Interstate 11
From the Director: Formal comment period begins for Interstate 11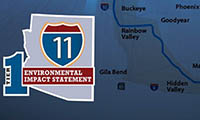 By John Halikowski / ADOT Director
What is the latest news to share about Interstate 11? After three years of study, technical analysis and public involvement, the Arizona Department of Transportation and the Federal Highway Administration are ready for the public to review and comment on the Draft Tier 1 Environmental Impact Statement. I value the input from the public in this important step as we continue to study I-11.
Interstate 11 is envisioned as a multi-use corridor that would provide a connection from Mexico to the Hoover Dam, connecting with I-11 in Nevada. This proposed statewide highway would improve Arizona's access to regional and international markets while opening up new opportunities for enhanced travel, mobility, trade, commerce, job growth and economic competitiveness.
There are six public hearings scheduled for late April into mid-May in the Buckeye, Wickenburg, Casa Grande, Nogales, Tucson and Marana areas. I would encourage those of you who are interested in the I-11 study to either attend one of the public hearings or submit your comments by May 31.
The Draft EIS identifies a Recommended Corridor Alternative and also a No-Build Alternative. It is a preliminary recommendation. The final EIS is scheduled for completion in 2020.
It is important to know that funding to design and construct I-11 has not been identified.
Any and all future I-11 studies will continue to include public and stakeholder engagement and input in compliance with the National Environmental Policy Act.
Visit the study website at i11study.com/Arizona for locations and times for the public hearings, as well as ways to submit your comments online, by fax or mail.
---



   This post originally appeared on ADOT Director John Halikowski's 
   LinkedIn page. He has led the agency since 2009.