From the Director: I-10 Corridor Coalition will enhance flow of commerce, travel
From the Director: I-10 Corridor Coalition will enhance flow of commerce, travel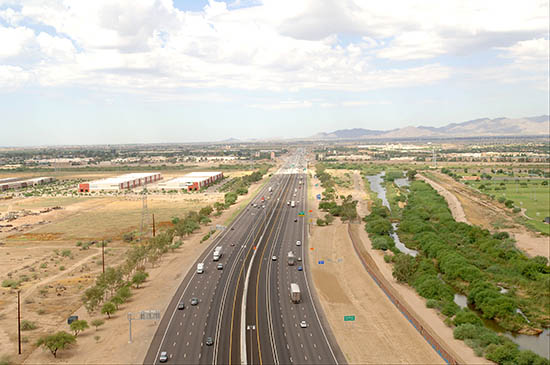 By John Halikowski / ADOT Director
Nearly 60 percent of the winter produce consumed in the United States comes through the Mariposa Port of Entry in Nogales. Chances are that the salad served in Chicago and the sandwich enjoyed in Dallas have ingredients that came through Arizona.
Trucks hauling all of that produce travel along State Route 189 and Interstate 19 north to Tucson, where they reach one of the greatest distribution corridors in the U.S.: Interstate 10. From Tucson, they may head west to California or east to Texas, joining goods shipped around the country by Arizona businesses.
That's what makes the partnership agreement I signed recently, along with the transportation directors from California, New Mexico and Texas, so important.
Instead of working independently, Arizona and other states in the I-10 Corridor Coalition have agreed to put their heads together to determine the best ways to do everything from regulating commercial traffic to inspecting vehicles that cross state lines to finding the most economical way to build that next large project.
That will allow safer and more efficient travel, both commercial and personal.
When that happens, goods can reach their destinations as quickly as possible and at the lowest cost possible.
It's a boost not only for Arizona but for all four states in a region that combined would have the 10th largest economy in the world. We envision an I-10 corridor that one day will be filled with truck platoons and connected vehicles, weigh-in-motion sensors and automated truck parking lots.
A similar corridor coalition along I-95 has demonstrated success from Florida to Maine. With this agreement, Arizona and our partners are taking an important step forward for transportation in the Southwest.
---

This post originally appeared on ADOT Director John Halikowski's
LinkedIn page. He has led the agency since 2009.