From the Director: Important I-10 study is seeking proposals
From the Director: Important I-10 study is seeking proposals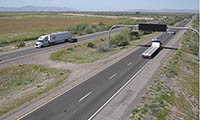 By John Halikowski / ADOT Director
The official word is out. In collaboration with the Maricopa Association of Governments and the Gila River Indian Community, the Arizona Department of Transportation has issued a Request For Proposals for a design concept report and environmental study of Interstate 10 between Phoenix and Casa Grande.
Creating a master plan for I-10 between Phoenix and Casa Grande is a major step toward ADOT's goal of providing three lanes in each direction from the Valley to Tucson. By working collaboratively with MAG and GRIC, we can develop a vision and strategy for providing the capacity that I-10 needs today and tomorrow in this important corridor. As ADOT has made significant investments to increase capacity between the state's two largest metropolitan areas, we must respectfully work with all governments and people affected by plans for I-10.
I-10 is considered a Key Commerce Corridor, linking trade opportunities while further expanding the state's economy.
The study, required for projects that receive federal funding, will have an accelerated timeline of 18 months when it launches this year. The study will determine when construction could begin and establish the timeline for improvements based on ADOT's Five-Year Transportation Facilities Construction Program, which is updated annually.
ADOT remains committed to working in partnership to find the best solutions to address congestion on I-10.
---

This post originally appeared on ADOT Director John Halikowski's 
LinkedIn page. He has led the agency since 2009.