From the Director: Investments in trade corridors continue
From the Director: Investments in trade corridors continue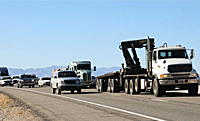 By John Halikowski / ADOT Director
Continued investment in our state's busiest corridors and those beyond our state borders will provide better mobility and help enhance trade, commerce and economic development. With the U.S. marking the 60th anniversary of the Interstate Highway System, it seems the perfect opportunity to remind everyone of the efforts the Arizona Department of Transportation is doing with the state's Key Commerce Corridors.
I-11
I-11 is a proposed interstate corridor connecting Arizona with regional and international markets. The progress on the Interstate 11 study shows ADOT's commitment to establish a key border-to-border corridor and trade route to Mexico that will continue our state's efforts to boost commerce, job growth, and economic development. We are in the midst of our initial environmental study as part of the planning process in studying the corridor from Nogales to Wickenburg. We have the support of partner agencies; they realize the benefits that I-11 can bring in terms of competitiveness, regional and global connections, and business opportunities for this new freight and travel route.
I-10 Corridor Coalition
I recently had the opportunity to sign an agreement with three other state departments of transportation – California, New Mexico and Texas – to make travel on Interstate 10 safer and more efficient. This agreement builds upon our commitment to build a reliable, friction-free I-10 corridor to support Arizona's businesses and export industries. When you combine Arizona, California, New Mexico and Texas into one region, it would have the 10th largest economy in the world. We intend to share resources, best practices on safety, improve freight movement, coordinate use of technology, and promote cooperative planning. This coalition illustrates ADOT's efforts to reach beyond our state borders for collaboration and opportunities to build a more efficient transportation system.
State Route 189
Although State Route 189 is only 3.75 miles in length in Nogales, Arizona, this particular route connects one of the busiest land ports in the U.S., the Mariposa Port of Entry, to Interstate 19. A majority of the winter produce that is consumed each year in the U.S. crosses through the Mariposa Port of Entry from Mexico. For ADOT, SR 189 is an important trade route, not just for Nogales but for Arizona's economy as a whole. That is why ADOT is investing in improvements. I believe that investment speaks volumes to the importance of SR 189 in our system and our commitment to see the route improved to accommodate future trade opportunities with Mexico, our state's largest foreign trading partner.
AZ-Mexico Corridor Study
Earlier this year, I had the distinct honor of signing a memorandum of understanding with my counterpart, the undersecretary of infrastructure for Mexico's Ministry of Communications and Transport. This memorandum establishes a joint planning committee to study ways to improve the corridor along Interstate 19 in Arizona and Highway 15 in Mexico. This multi-year AZ-Mexico Corridor Study is a one-of-a-kind effort that will help us market our region throughout the world. This effort is just another opportunity where we can invest resources to enhance connectivity, economic development and job growth from transportation infrastructure improvements.
Transportation does indeed bring value to our state. At ADOT, we relish the challenges to study a future trade corridor, improve a vital interstate highway across multiple states, enhance a major trade route in Southern Arizona, and collaborate across the border. It's an exciting time at ADOT and for Arizona!
---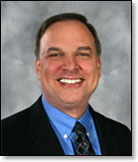 This post originally appeared on ADOT Director John Halikowski's
LinkedIn page. He has led the agency since 2009.