From the Director: Pilot program starts for expanded truck loads on I-10, I-19
From the Director: Pilot program starts for expanded truck loads on I-10, I-19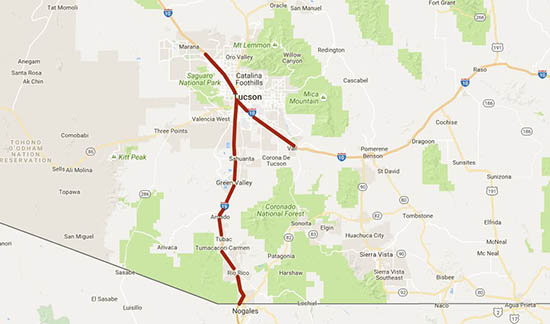 By John Halikowski / ADOT Director
The Arizona Department of Transportation has started a year-long pilot program that allows slightly heavier trucks to travel on interstates in Southern Arizona. The program began Sept. 1.
ADOT is responding to requests from area leaders to help make commercial traffic more efficient. We chose Interstate 10 in the Tucson/Marana area and Interstate 19 between Tucson and Nogales including Business 19 because these roadways are Key Commerce Corridors, contributing significantly to Arizona's economy and being near Mexico, the state's top international trading partner.
Operating at the speed of business means that ADOT looks for ways to make freight travel as friction-free as possible while safeguarding Arizona's investment in our highways and protecting public safety. As part of the pilot program, trucks may receive permits from ADOT that allows them to carry up to 83,000 pounds rather than the current weight limit of 80,000 pounds, making for a smoother transition between rail and highway modes for freight shipments. We will be studying whether the higher weight limit has an impact on the condition of our highways and on the safety of the traveling public.
This pilot program represents ADOT's commitment to support Arizona's businesses and export industries. We are a member of the I-10 Corridor Coalition (California, New Mexico and Texas) whose mission is to make travel on Interstate 10 safer and more efficient including freight movement. I look forward to sharing the data we collect with the three state departments of transportation.
---

This post originally appeared on ADOT Director John Halikowski's
LinkedIn page. He has led the agency since 2009.