From the Director: Transportation investments continue for I-10
From the Director: Transportation investments continue for I-10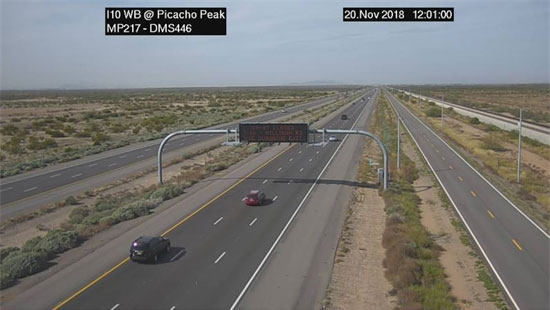 By John Halikowski / ADOT Director
Safety is the No. 1 priority at the Arizona Department of Transportation. It represents a fundamental factor in deciding where to invest our transportation dollars to ensure we have a safe and reliable transportation system in the state. Our commitment to improve safety and travel on Interstate 10 between Phoenix and Tucson is evident in the number of projects currently underway, what projects have been completed in the Tucson region, and future study of the corridor.
ADOT is installing the first-in-the-nation pilot dust detection and warning system on a 10-mile stretch of Interstate 10 between Eloy and Picacho Peak in central Arizona. This particular area is prone to dust storms due to the topography and winds that appear either during our summer monsoon season or winter conditions. The purpose of the dust detection system is to provide drivers with fast information when conditions warrant. By alerting drivers via message boards of location of dust storms and their severity, plus having variable speed limits to slow drivers, it means safer travel on this important Key Commerce Corridor.
With a $54 million federal FASTLANE grant to assist with funding, ADOT is widening 8 miles of Interstate 10 and constructing new interchanges in the same area of central Arizona, to improve travel and safety. These construction projects are adding another general purpose lane in each direction and building new interchanges with State Route 87 and Interstate 8. With completion expected in the fall of 2019, I'm sure drivers will welcome the improvements.
Farther south in the Marana/Tucson area, ADOT is in the home stretch of making improvements at Interstate 10 and Ina Road. With completion scheduled for early 2019, Ina Road will cross over Interstate 10 and the railroad tracks, plus Interstate 10 will have an additional lane in both directions to help with traffic congestion and safety. Cost is $125 million.
To accommodate the growth in Tucson and Pima County, ADOT has committed significant resources to improve the connectivity and traffic needs in the last 10 years on Interstate 10. From the improvements to widen I-10 from 29th Street to Prince to Ruthrauff and to build a new interchange at Twin Peaks, over $325 million has been invested to improve safety. We aren't done in the region as more projects are planned in the next four years to improve travel on Interstate 10 and Interstate 19.
Equally important to the projects under construction and being planned for the future is the recent announcement that the Maricopa Association of Governments, ADOT and the Gila River Indian Community are going to study I-10 between Phoenix and Casa Grande. Creating this master plan for I-10 between the Phoenix area and Casa Grande will be a major step toward ADOT's goal of providing three lanes in each direction from the Valley to Tucson. By working collaboratively, our agencies can develop a vision and strategy for providing the capacity that I-10 needs today and tomorrow in this corridor.
On average, 55,000 to 60,000 vehicles travel on Interstate 10 on a given day between Phoenix and Tucson. It's why ADOT continues to invest in projects that make this stretch of roadway safe to travel on for years to come.
---

This post originally appeared on ADOT Director John Halikowski's 
LinkedIn page. He has led the agency since 2009.