From the Director: A year in review at ADOT
From the Director: A year in review at ADOT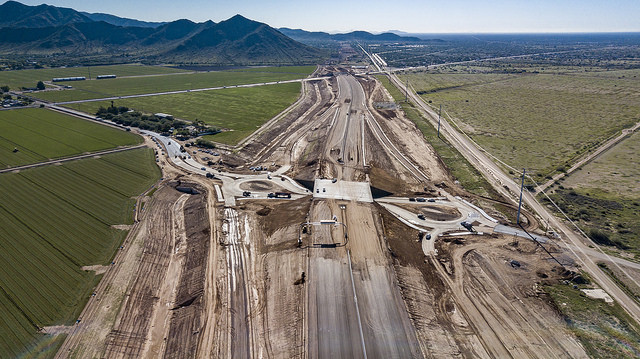 By John Halikowski / ADOT Director
It is hard to believe that we are about to say goodbye to 2018 and ring-in 2019. But, before the calendar page turns to a new year, I want to take the opportunity to highlight just a few accomplishments our Arizona Department of Transportation employees have achieved so far. I am proud of the work we have done. It's our "Connecting One ADOT" philosophy that exemplifies the true meaning of collaboration and that we work as a system to meet the needs of our customers every day.
So here is a snapshot of what we've accomplished in 2018:
Halfway through the building of the South Mountain Freeway, the first public-private partnership construction project (P3) and the most expensive in ADOT's history.
Installed the first-in-the-nation wrong-way driver detection system on a 15-mile stretch of Interstate 17, garnering national attention and achieving the desired results of deterring wrong-way drivers from entering the freeway.
Received the Government Innovation Award and Best of Class by GCN, an information technology industry magazine, and a runner-up award in the National Operations Center of Excellence (NOCoE) inaugural Transportation Systems Management and Operations (TSMO) Awards for the wrong-way driver detection system.
Acknowledged by the National Operations Center of Excellence (NOCoE) inaugural Transportation Systems Management and Operations (TSMO) Awards as the winner for Best TSMO Project, Improving an Agency's TSMO Capabilities, Major Incident or Special Event, and Public Communications for the re-striping and resigning effort on WB US 60.
Began installing the first-in-the-nation dust detection system on Interstate 10 between Casa Grande and Tucson.
Continuing the environmental study of the future Interstate 11 corridor.
Delivered safety campaigns in the form of the "Drive Aware, Get There" Public Service Announcement, and the http, along with another successful safety message contest that generated 2,200 entries and 2,500 votes statewide.
Established even shorter wait times at our Motor Vehicle Division offices than last year, expanded office hours and offered new services – Permit Test @ Home and ETitle – with more innovative solutions coming next year.
Recognized MVD with the "Improvement through Efficiencies Service" Award by the American Motor Vehicle Administrators Association (AMVAA).
Continued to be the national leader in facilitating the development of autonomous vehicle technologies.
Reduced inactive project balances by over $100 million by Financial Management Services so ADOT has money to commit to more projects.
Trained 1,750 Mexican commercial drivers by our Border Liaison Unit to meet our vehicle safety requirements at the ports of entry and graduated 523 drivers for the International Border Inspection Qualification (IBIQ) program, ensuring efficiency at border inspections.
Recovered $6.5 million to restore and repair state highways by our Insurance Recovery Unit.
Awarded Medals of Valor to eight employees for their heroic actions, along with 13 Director Pins and 13 Citation Awards for service.
Won two first place awards, Best Internal Newsletter and Best Twitter, at TransComm 2018 by the American Association of State Highway and Transportation Officials communications subcommittee.
Provided transportation logistics, law enforcement coverage and communication support for the late Senator John McCain's funeral services.
I wish I had more space to list even more accomplishments. It is an honor to work alongside such dedicated public servants who make transportation personal and provide a safe and reliable transportation system for the citizens of Arizona and the traveling public.
---
This post originally appeared on ADOT Director John Halikowski's
LinkedIn page. He has led the agency since 2009.