Do you know how Arizona remembers this infamous day?
Do you know how Arizona remembers this infamous day?
By David Rookhuyzen / ADOT Communications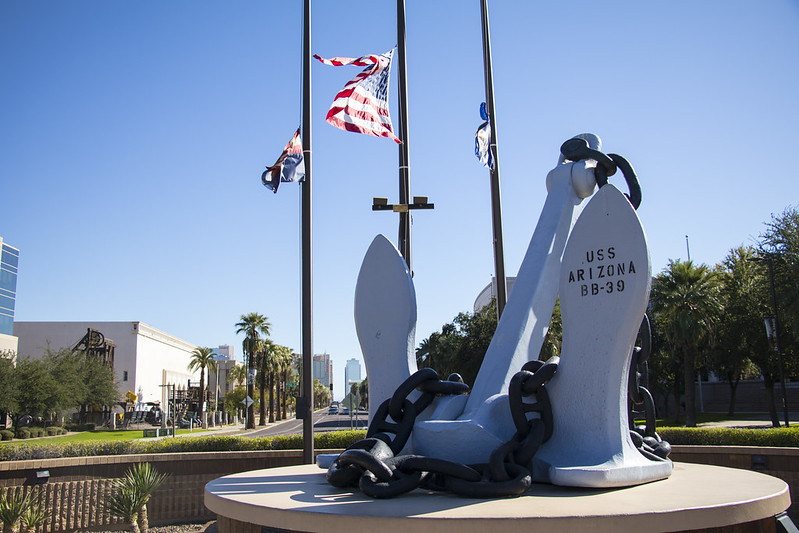 Today is the day.
On this date 79 years ago, the Imperial Japanese Navy Air Service bombed the surprised naval base at Pearl Harbor in Hawaii. One of the battleships sunk that day was the USS Arizona, which was irrepairably damaged when one of the bombs exploded in its magazine. The explosion caused the ship to go down with 1,177 souls still on board. It's the remains of the Arizona which you can still see today if you visit Pearl Harbor.
But you probably already knew that. After all the attack on Pearl Harbor drew the United States into the Second World War, and most can recite the rhetoric used by President Franklin D. Roosevelt's in his speech to Congress the next day, where he declared December 7th, 1941 as "a date which will live in infamy."
However, maybe we can share some things you might not have known about the attack on Pearl Harbor. For instance, did you know Roosevelt's line in his speech was actually a last-minute change? As you can see in this draft of the speech, the line was a hand-written edit, replacing the still true, but softer "a date which will live in world history." 
Did you also know that you can catch a glimpse of the USS Arizona without leaving the state? If you visit Wesley Bolin Memorial Plaza, directly east of the Capitol Building, you'll find a number of memorials to veterans, including Navajo Code Talkers and Vietnam veterans. And among these are one of the USS Arizona's two masts, a 14-inch gun barrel from its deck and one the ship's anchors – which weighs 16,000 pounds! 
Finally, did you know that I-10 west of Phoenix is named in honor of those who died at Pearl Harbor? You may have, as we told you about it in a post from a couple years ago. In brief, the state legislature passed a resolution in 1995 declaring that stretch of I-10 to be the "Pearl Harbor Memorial Highway." And just to tie everything together, the first highway sign to go up on I-10 displaying the name was originally unveiled 25 years ago today, near the mast, gun and anchor in Wesley Bolin Memorial Plaza. 
But if you don't feel like traveling right now to see reminders of Pearl Harbor, you are in luck. You can catch a glimpse of the mast, gun and anchor – as well as the other memorials – in these slideshows that an ADOT photographer took during separate events honoring veterans at the plaza a few years ago. It is one way we can help observe this infamous day.