Don't fear the reaper: Welcome 2017 with sober driving
Don't fear the reaper: Welcome 2017 with sober driving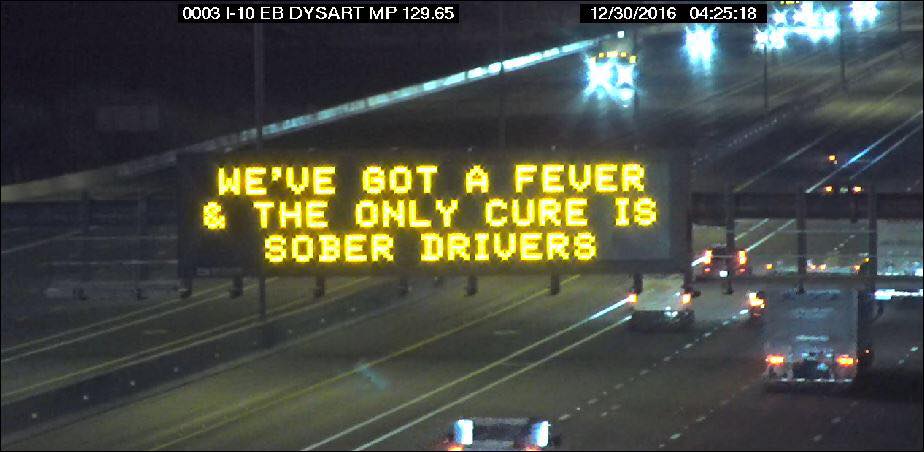 By Steve Elliott / ADOT Communications
Enjoy your New Year's. Just don't get behind the wheel toasted.
Continuing our tradition of holiday safety campaigns, starting today ADOT's highway message boards are encouraging you to make smart decisions when it comes to getting around on a long weekend that many associate with imbibing.
Channeling Christopher Walken's Saturday Night Live turn as record producer Bruce Dickinson (yes, the Bruce Dickinson), helping Blue Öyster Cult cut its cowbell-infused hit "(Don't Fear) The Reaper," the first message says:
WE'VE GOT A FEVER
& THE ONLY CURE IS
SOBER DRIVERS
(Yes, Bruce Dickinson said PRESCRIPTION when he demanded more cowbell to cure his fever, but a word that long doesn't play well with message boards limiting us to 18 characters per line.)
Look for new messages each day throughout the weekend.
It should go without saying, but driving under the influence, already a factor in many fatal crashes, is an especially big concern at New Year's.
In 2015, Arizona saw seven people die in crashes over New Year's weekend. Alcohol was a factor in four of those fatalities.
As you ring in 2017, please designate a driver, take a cab, catch the bus or light rail (if you take public transportation, Bruce Dickinson would want you to explore the space) – whatever it takes to not get behind the wheel impaired.
Each of these options is a sure way to not have to fear the reaper.