Don't get thrown for a loop
Don't get thrown for a loop
By the Broadway Curve Project Team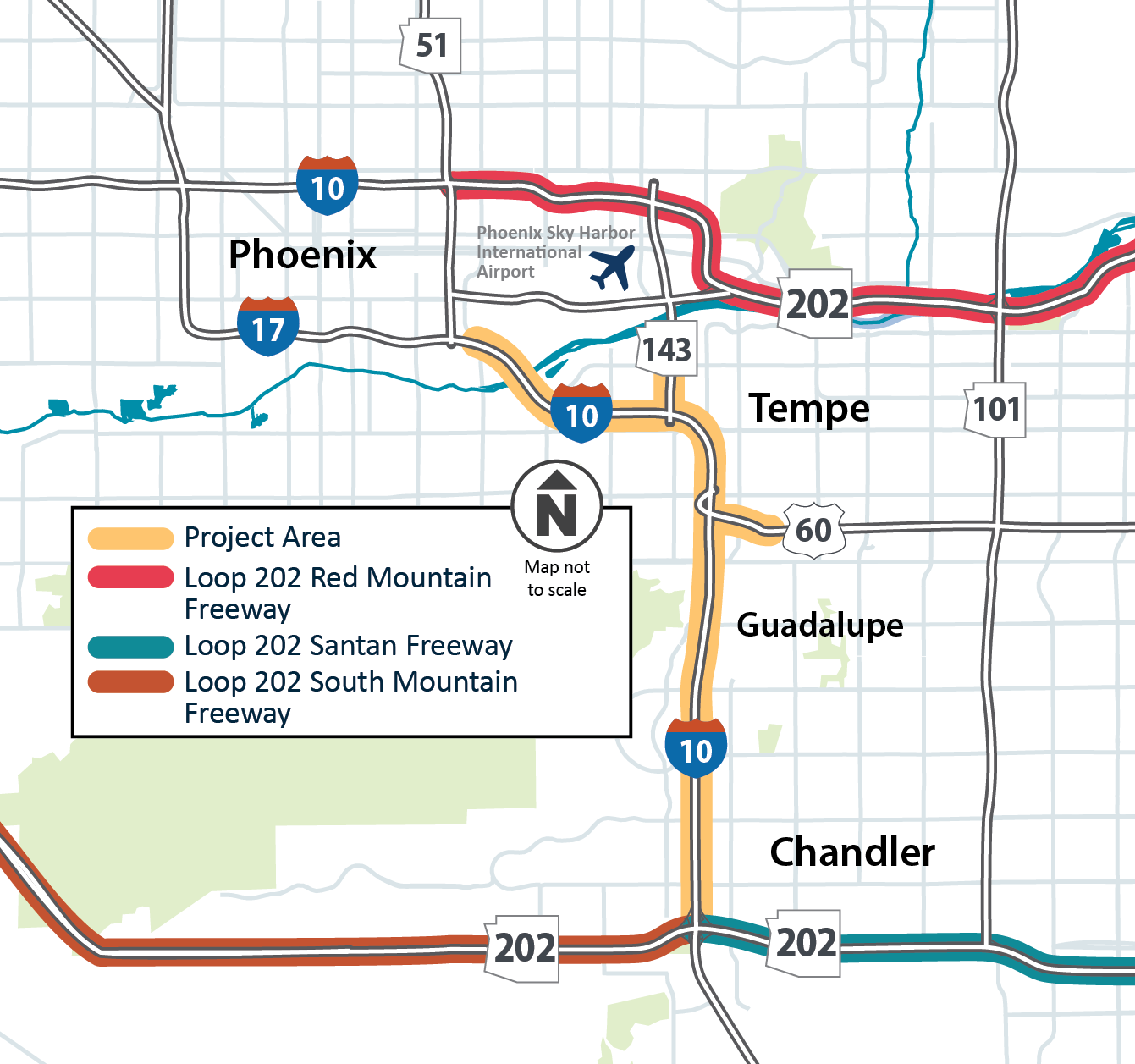 How many 202s does it take to make a detour? When it comes to construction on the I-10 Broadway Curve Improvement Project, the answer is one, two or sometimes all three.  
Metro Phoenix's 101, 202 and 303 freeway loops make it easy to connect with all points of Greater Phoenix. But for the purpose of navigating around construction during the Broadway Curve Improvement Project, get used to hearing about the three sections of Loop 202 - the Red Mountain, Santan and South Mountain freeways, which run north, east and south of the construction zone. 
We'll move clockwise, starting with the northern portion - the Red Mountain Freeway. Much of its 31 miles runs parallel to, and north of, Interstate 10 and US 60 (Superstition Freeway), and is the best bet for most people traveling to and from the East Valley. It will connect you to Arizona State University, Phoenix Sky Harbor International Airport, downtown Phoenix and beyond. Loop 202's northern portion begins at the intersection of I-10 and State Route 51 just east of downtown Phoenix. At Power Road, Loop 202 turns south, and the freeway's eastern portion begins. The Red Mountain section of the Loop 202 ends at US 60. 
The Santan Freeway picks up from here, continues south to Warner Road, then turns west until it meets up with I-10 25 miles later. At this point, drivers are beyond the project area and can continue to the West Valley or toward Tucson. The Santan Freeway connects the communities of Chandler, Gilbert, south Mesa and Queen Creek.  
The third and most recent addition to the Loop 202 system is the South Mountain Freeway, which connects the communities in the southeast and southwest valleys. Its 22 miles picks up at I-10, where the Santan ends, and continues west all the way around South Mountain Park along the southernmost part of Phoenix. It begins its northward bend near 35th Avenue and connects with I-10 again at 59th Avenue west of downtown Phoenix. The South Mountain Freeway provides an alternative to I-10 through downtown Phoenix for those headed to the West Valley or south toward Tucson. 
So don't get thrown for a loop. Understanding the Loop 202 system will make driving around the Valley easier, even after the Broadway Curve Improvement Project is completed.
Want to learn more? Here's a map of the other Valley freeway nicknames. 
Stay #AheadOfTheCurve and get the latest information on the I-10 Broadway Curve Improvement Project website and on social media.