In Douglas, ADOT officers win Battle of the Badges blood drive
In Douglas, ADOT officers win Battle of the Badges blood drive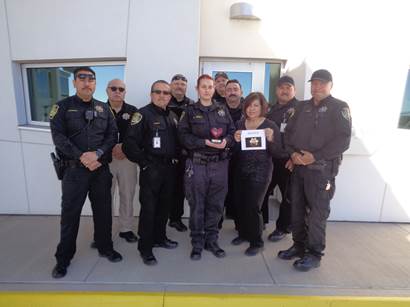 By Ryan Harding / ADOT Communications
Being smallest when it comes to numbers didn't keep Douglas-based ADOT Enforcement and Compliance Division officers from besting other public safety organizations in a Battle of the Badges blood drive.
On March 8, representatives from each participating agency, as well as members of the public, were encouraged to show up to donate blood and then vote for their favorite agency.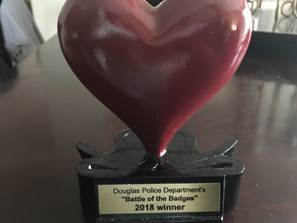 ADOT took home the Heart Award, shown a right, for having 11 people donate blood. There are a total of 14 ADOT officers in the Douglas area.
"Donating blood is the right thing to do. I've always helped out with blood donation," said John Filippelli, one of the officers manning ADOT's commercial port of entry in Douglas. "The event itself was great and it gave us a chance to go out and show our camaraderie and brotherhood."
ADOT officers who participated were Officer Filippelli, Lt. Christina Parrish, Sgt. Saul Sanchez, Sgt. William Mercer, Officer Leandro Cruz, Officer Dale Rachilla, Officer Amy Jones, Officer Floyd Gregory, Officer Ramon Coronado, Officer Danny Romero and Officer Ben Stevens.
Other participating agencies included the Douglas Police Department, Douglas Fire Department, Cochise County Sheriff's Office, U.S. Customs and Border Protection, Arizona Department of Corrections and Arizona Department of Public Safety.
In all, Battle of the Badges yielded 44 units of blood.