Earning a degree in engineering? Consider a career with ADOT
Earning a degree in engineering? Consider a career with ADOT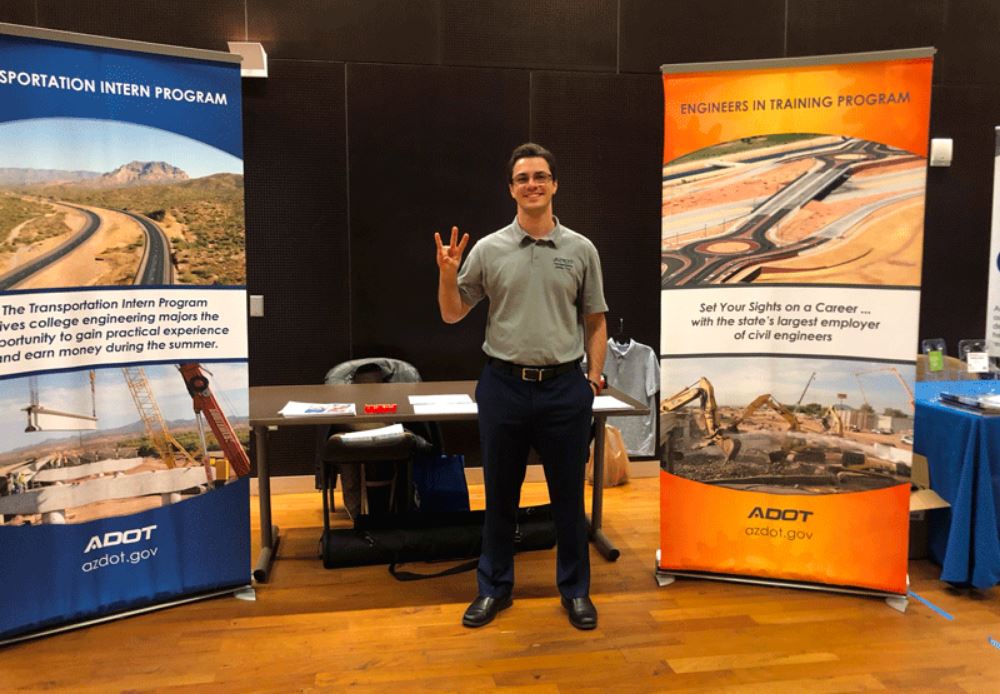 By David Rookhuyzen / ADOT Communications
Wrapping up a civil engineering degree? Want to make a difference by helping build, operate and maintain the nation's most reliable transportation system?
Then we hope you'll consider a career with ADOT.
You'll see us at job fairs held by Arizona State University, Northern Arizona University and University of Arizona.
Dylan Cardie, assistant district engineer for ADOT's Central District, said ADOT is ramping up its presence at these fairs because they are a great way to get graduating students to consider bringing their skills to public sector. Many people think of ADOT as only managing state highways and don't realize the variety of civil engineers it needs, he said.
An engineer joining ADOT can wind up focusing on environmental matters, traffic, bridges, construction or roadway engineering, among any other options.
"We do a lot more engineering than people expect," Cardie said.
A main selling point for students is ADOT's Engineer-in-Training program. The two-year program allows someone to take an entry-level job with the agency and spend time experiencing a variety of departments and the types of projects they handle.
"It's two years of learning; you rotate through a new department every few months," Cardie said.
This program allows new engineers not only to gain hands-on experience but get a feel for which discipline of civil engineering they will want to pursue as a career.
Engineering students also can drop by the ADOT recruiting table to learn about internships available as early as freshman year.
Another way to learn about career opportunities at ADOT is following our LinkedIn page, which has a link to current job openings.