Emergency Alert System being tested nationwide today at noon
Emergency Alert System being tested nationwide today at noon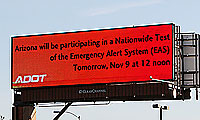 Today at noon the Emergency Alert System (EAS) is being put to the test on a national level …
You're probably already familiar with the EAS. It's the same system typically used to broadcast emergency weather alerts on your television and radio (it starts out with a series of loud screeching sounds, followed by the important information).
It's tested frequently on a local level, but this is the first time it will be tested everywhere all at once. That means every television station (including digital, cable and satellite audio) and radio station in the U.S. will test the system simultaneously.
The system plays a vital role if there's ever a significant emergency where large numbers of citizens need to be informed quickly and this test ensures it is ready for any and all hazards.
ADOT's role
ADOT will be testing out its Dynamic Message Signs by posting "EMERGENCY ALERT SYSTEM TEST IN PROGRESS" from 11:30 a.m. to 12:30 p.m. Dynamic Message Signs are an important tool and are already used by ADOT to get the word out on AMBER Alerts and other critical information.
ADOT also has partnered with Clear Channel Communications to use the company's electronic billboards to post important safety emergency messages.
"We're using this as an opportunity to test out that partnership with Clear Channel," says ADOT Emergency Manager Courtney Perrier Bear.
For more on the test, visit the Arizona Emergency Information Network website or the Federal Emergency Management Agency (FEMA) site.