Engineers find creative solutions to transportation challenges
Engineers find creative solutions to transportation challenges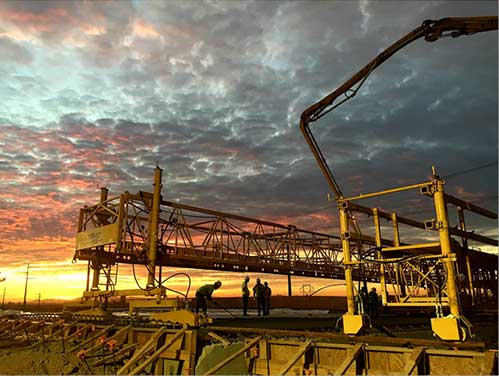 EDITOR'S NOTE: During National Engineers Week, which calls attention to the importance of engineering and career opportunities in engineering, blog posts are featuring different aspects of engineering at ADOT.
By Caroline Carpenter / ADOT Communications
ADOT engineers design and execute projects, ensure the quality of materials used in pavement, rebar, concrete and more, protect Arizona's $20 billion-plus investment in state highways through preventive maintenance, plan for traffic needs and perform other tasks critical to offering a reliable transportation system.
These creative women and men constantly come up with ingenious ways to meet challenges. On this Thursday of National Engineers Week, let's throw back to some of the engineering innovations we've featured of late.

Foam Injection
To fix a slight dip in the pavement on the Loop 101 Pima Freeway, ADOT engineers decided to use a product that injects foam beneath pavement and avoids having to tear up road surface. Deep foam injection stabilizes the soil, is cost-effective and takes much less time than a more involved project. The video below explains this technique and its benefits.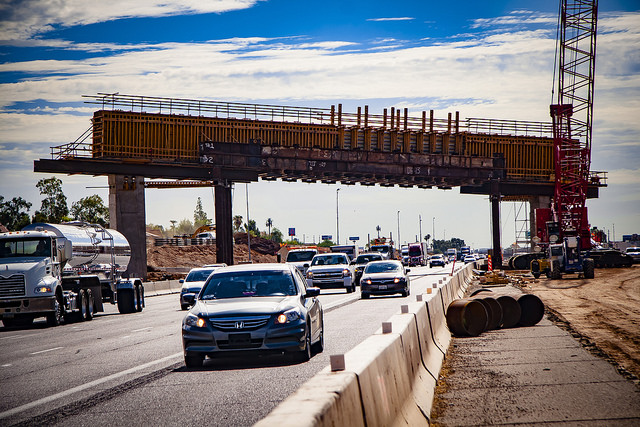 Straddle Bents
If you've driven past Loop 202 South Mountain Freeway interchange construction in the West Valley, you've seen straddle bents constructed over Interstate 10 near 59th Avenue. These structures will eventually support flyover ramps. The straddle bent, which straddles lanes of traffic, is an alternative when a typical one-column pier carrying a ramp would need to be in the middle of an existing roadway. This Flickr slideshow has more photos of straddle bents and other highlights from our interchange construction project. And here's an Art of Transportation blog post celebrating the straddle bent.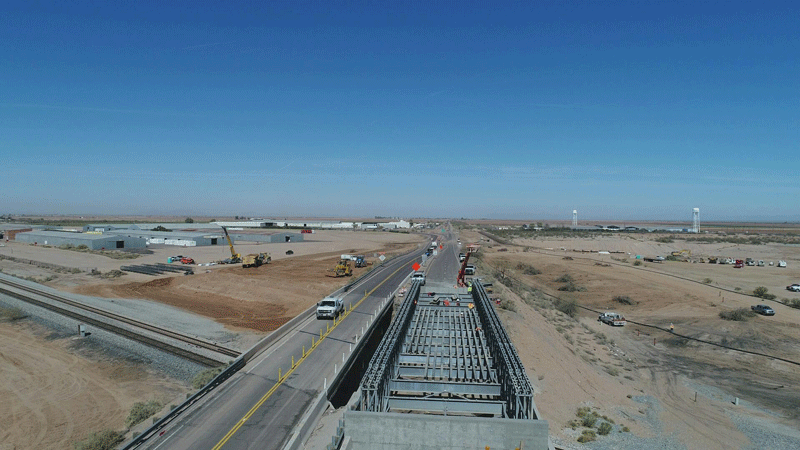 Temporary bridges
Did you hear about the new bridge you'll never drive? Engineers are using a temporary bridge to reduce traffic impacts as we build a new I-10 interchange with State Route 87 near Picacho. This bridge will only be used by construction vehicles working on the project and will save about 60,000 trips from a materials pit to the work site because it's built to handle large loads. Engineers used a similar idea during a project that upgraded I-10 bridges at Craycroft Road in Tucson, with a temporary bridge maintaining traffic flow and reducing delays.
Prefab bridge
In March 2017, a novel construction technique using prefabricated components allowed ADOT to build a bridge in 96 hours, greatly reducing the traffic impacts from such a large project. Over a long weekend, a 110-foot bridge went up over the Sacramento Wash along Oatman Highway a mile north of Interstate 40 in northwestern Arizona. The video below offers an accelerated look at this accelerated project.