Finding water deep beneath the desert key to reopening rest area
Finding water deep beneath the desert key to reopening rest area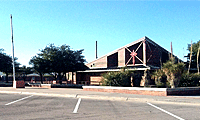 By Tom Herrmann / ADOT Communications
It probably goes without saying: Finding water in a desert is never an easy proposition. And when you need enough water to supply a busy rest area from a well, the challenge is even greater.
When the San Simon Rest Area's facilities serving both directions of Interstate 10 closed in March 2015 for much-needed improvements and development of a new well, Arizona Department of Transportation planners hoped to reopen it before the nearby Texas Canyon Rest Area closed in December.
The desert disagreed with that timeline.
To get enough water for San Simon – where an average of more than 12,000 vehicles pass by on I-10 every day – ADOT had to drill more than 1,000 feet down. That's more than three football fields deep, a task that took longer than expected.
But just in time for Memorial Day traffic, the San Simon Rest Area at milepost 388 is open. Just three miles from the New Mexico state line, it provides an important rest stop for drivers. And drivers stop here often – more than 430,000 times a year between the eastbound and westbound facilities.
Texas Canyon Rest Area, at milepost 320 about 20 miles east of Benson, is scheduled to reopen before the busy July Fourth holiday. Facilities on both sides of I-10 are getting upgraded restrooms, water systems and ramadas, along with new pavement.
The next time you stop to wash your hands at a rest area in the desert, look down. Way down. The water coming out of that faucet may seem like a simple thing, but getting it to you was anything but simple.