Flashback Friday: The day Yuma's Ocean-to-Ocean Bridge opened to traffic
Flashback Friday: The day Yuma's Ocean-to-Ocean Bridge opened to traffic
By Steve Elliott / ADOT Communications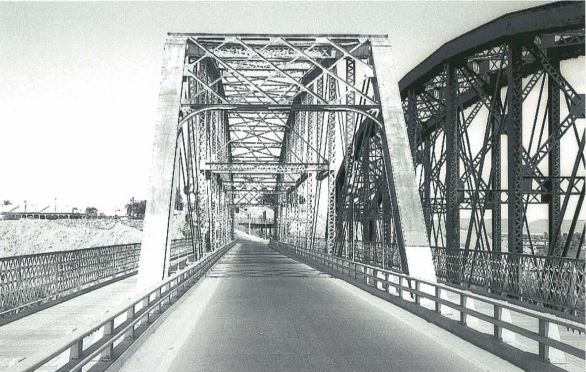 This week in 1915, according to a newspaper account from the time, a parade of decorated automobiles, a concert and horse races helped open the Ocean-to-Ocean Bridge over the Colorado River at Yuma.
"Bridge Celebration: Yuma will celebrate as never before in history," the Arizona Sentinel and Yuma Weekly Examiner declared in a front page headline setting up the festivities on Saturday, May 22, followed by
Yuma citizens appreciate the kindly position which is assumed by the Arizona governor toward the coming celebration and believe that the executive proclamation will add greatly to its success. Though Yumaites are boosting the Yuma Project and the (sic) celebrating the completion of the great national highway bridge here we know that the entire Southwest will feel the thrill and benefit from every bit of energy put forth.
Let's all co-operate for the general good.
Now owned by Yuma County and visible from Interstate 8, this steel bridge with concrete piers and abutments was an important link in what was dubbed the Ocean-to-Ocean Highway and was the first highway span over the lower Colorado River. Here are the specs, courtesy of ADOT's Arizona Historic Bridge Inventory, pages 714-717 to be exact:

The bridge came to be after then-Representative Carl Hayden steered a bill through Congress in 1913. Because it provided a crossing for the Yuma Indian Reservation just over the river in California, the Office of Indian Affairs picked up part of the $72,000 cost, with the state of Arizona and California's Imperial County each pitching in $25,000.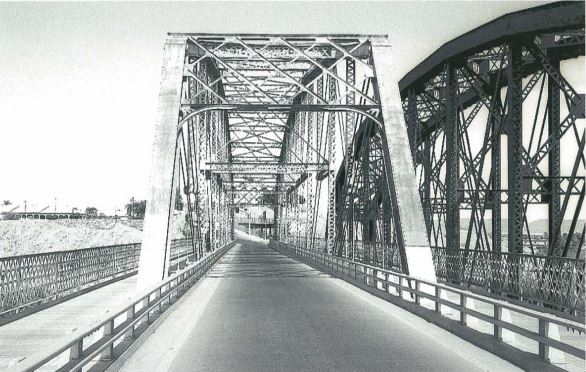 It carried the Ocean-to-Ocean Highway for decades until I-8 arrived. Today it carries Penitentiary Avenue across the river. While it would be reasonable to assume that half of the bridge is in Arizona and the other half in California since it spans the Colorado River, it's entirely within Arizona thanks to
how the state line runs through that area
.
According to ADOT's Historic Bridge Inventory, the Ocean-to-Ocean Bridge is "the earliest and longest through truss in Arizona, the only Pennsylvania truss and one of the only three pin-connected trusses among Arizona's vehicular structures."
Of course, now I need to learn what all that stuff is so I can tell you. Give me a minute ...
OK, so a bridge truss is a support made of linked beams, often in triangles, that provide rigidity and spread out the load. A through truss goes above the roadway, while a deck truss goes below. A Pennsylvania truss has a curved top to help support longer spans. And a pin-connected truss has pins connecting the truss components at joints.
Now get out there and cooperate for the general good.