Flashback Friday: Sign of the times
Flashback Friday: Sign of the times
By David Rookhuyzen / ADOT Communications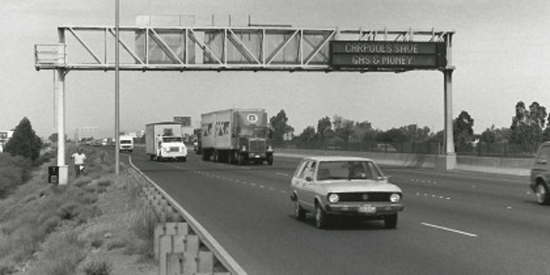 The message is still as relevant as ever, but the delivery has definitely seen some upgrades in the past 30-plus years.

Today we travel back to 1987, when the first computer-operated dynamic message boards began operating on the Black Canyon Freeway in Phoenix. The message on the small (compared to our modern signs) two-line board reads "Carpools save gas & money."

Not quite a "Star Wars" pun, but a good start nonetheless.

Today we have more than 250 dynamic message signs across the state. You can see both the locations and content of them via our az511.gov Arizona Traveler Information site. There are now more than 20 descendants of this original board on I-17 alone. 

These modern boards, which contain three lines of 18 characters, display crash and road closure information, Amber, Silver and Blue alerts, and travel times in the greater Phoenix area or on I-17 between Phoenix and Flagstaff. 

And, of course, from time to time they display some more ... let's say, thematic traffic-safety messages. 

But that all can trace back to when these first boards went up 32 years ago.