Foam allows ADOT to give freeways a boost
Foam allows ADOT to give freeways a boost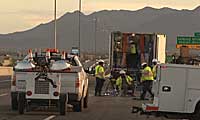 By Caroline Carpenter / ADOT Communications
When driving on a highway, you may occasionally notice a slight dip. That can be because the roadway has settled. As we shared this week, in such cases ADOT can turn to a high-tech option that lifts the pavement and fixes the imperfections without workers having to dig up the road.
The foam expands below ground, stabilizing the soil while it lifts the surface.
Check out the video above showing the foam-injection process and its benefits through a project along the Loop 101 Pima Freeway.