Focus On Driving: Crashes in work zones spike in January
Focus On Driving: Crashes in work zones spike in January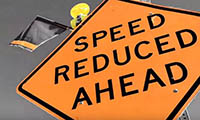 This blog post kicks off a series we're calling "Focus On Driving". This series looks at often-overlooked measures that keep the traveling public safe – from rumble strips and barriers to the reflective paint used in lane striping – as well as timely safety topics, such as when crashes involving particular factors occur most often – for instance more impairment-related crashes happen in May than any other month.
By Doug Pacey / ADOT Communications
Road work occurs year-round in Arizona. While many states can't schedule construction during winter months, that's not a problem in much of Arizona.
But statistics show that Arizonans need to pay more attention when drive in and near work zones during the month January. On average, more crashes occur in work zones in January in Arizona than in any other month.
From 2012 to 2016, an average of 101 collisions occurred in work zones on Arizona's state highways, county roads and city streets. The average month saw 82 crashes in work zones.
It's in drivers' best interests to pay extra attention when entering work zones. Not only for the safety of workers, but for the well-being of themselves and passengers because vehicle occupants account for about 80 percent of traffic deaths that occur in work zones each year nationally.
Follow these tips when driving in a work zone:
Expect the unexpected. Normal speed limits may be reduced, traffic lanes may be restricted and people may be working on or near the road.
Slow down! Speeding is one of the major causes of work-zone crashes.
Keep a safe distance. The most common type of accident in a work zone is a rear-end collision. Maintain two car lengths between you and the car in front of you as well as road crews and their equipment.
Pay attention. The warning signs are there to help you move safely through the work zone. Observe the posted signs.
Obey road crew flaggers. The flagger knows what is best for moving traffic safely in the work zone. A flagger has the same authority as a regulatory sign. You can be cited for disobeying a flagger's directions.
Stay alert and minimize distractions. Dedicate your full attention to the roadway and avoid changing radio stations or using cell phones while driving in a work zone.
Keep up with traffic flow. Motorists can help maintain traffic flow and posted speeds by merging as soon as possible. Do not drive right up to the lane closure and then try to barge in.
Zipper merge? With the zipper merge, traffic engineers want drivers to remain in their lanes and merge just before the lane closure begins. Signs saying "merge here" and "take turns merging" show when it's time to merge.
Be patient and stay calm. Remember, crews are working to improve the road and your commute.
For information on current and future work-zone road restrictions on state highways, visit AZ511.gov.